Details: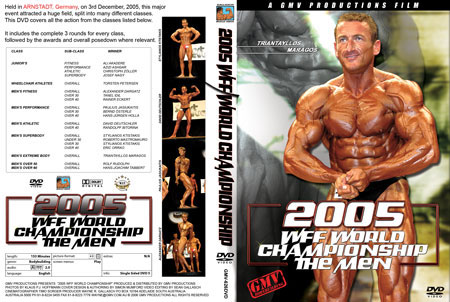 2005 WFF World Championship - The Men

Held in ARNSTADT, Germany, on 3rd December, 2005, this major event attracted a huge field, split into many different classes. This DVD covers all the action from the men's classes listed below.

It includes the complete 3 rounds for every class, followed by the awards and overall posedown where relevant.

CLASS SUB-CLASS WINNER


JUNIOR'S FITNESS ALI AKADERE
PERFORMANCE AZIZI ASHGAR
ATHLETIC CHRISTOPH ZÖLLER
SUPERBODY JOSEF NAGY

MEN'S FITNESS OVERALL ALEXANDER DARGATZ
OVER 30 TANEL IDIL
OVER 40 RAINER ECKERT

MEN'S PERFORMANCE OVERALL PAULIUS JASIUKAITIS
OVER 30 BERND ÖSTERLE
OVER 40 HANS-JÜRGEN HOLLA

MEN'S ATHLETIC OVERALL DAVID DEUTSCHLER
OVER 40 RANDOLPF BITORINA

MEN'S SUPERBODY OVERALL STYLIANOS KTISTAKIS
UNDER 30 ROBERTO MASTROMAURO
OVER 30 STYLIANOS KTISTAKIS
OVER 40 ERIC ORRAO

MEN'S EXTREME BODY OVERALL TRIANTAYLLOS MARAGOS

MEN'S OVER 50 OVERALL ROLF RUDOLPH
MEN'S OVER 60 OVERALL HANS-JOACHIM TABBERT

All photos by Klaus P.J. Hoffmann. Special thanks to our German cameraman TIMO SORGER.



Running Time: 153 mins

* Available in NTSC DVD Only (Region Free)
* THIS DVD WILL PLAY ON ANY DUAL SYSTEM NTSC / PAL DVD PLAYER AND TV. Or any PC DVD.