Details: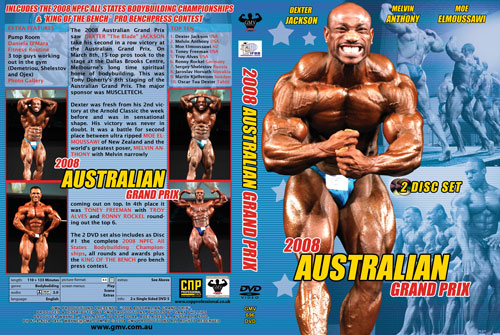 2008 Australian Grand Prix – 2 disc set

This 2 DVD set presents the complete event from the Pro pump room through the Pro Contest prejudging and Finals plus the amateur contest and King of the Bench contest to pro stars training in the gym next day. This makes a wild package of 243 minutes of hard-core muscle action spread over 2 packed discs!!
On March 8th the 2008 Australian Grand Prix saw DEXTER "The Blade" JACKSON take his second victory in a row victory at the Australian Grand Prix. 15 top pros took to the stage at the Dallas Brooks Centre, Melbourne's long time spiritual home of bodybuilding. This was Tony Doherty's 8th staging of the Australian Grand Prix.

Dexter was fresh from his 2nd victory at the Arnold Classic the week before and was in sensational shape. His victory was never in doubt. It was a battle for second place between ultra ripped MOE ELMOUSSAWI of New Zealand and the world's greatest poser, MELVIN ANTHONY with Melvin narrowly coming out on top. In 4th place it was TONEY FREEMAN with TROY ALVES and RONNY ROCKEL rounding out the top 6.
This was the best quality field seen at the Aussie GP ever with past winner Rockel not able to place higher than 6th this time. All of the top 6 are qualified for the 2008 Olympia. The pose down was one of the longest and best we have ever seen!
The 2 DVD set also includes as Disc #1 the complete 2008 NPFC All Sates Bodybuilding Championships for men and women with the Men's Open Winner being LOCKIE MAXWELL-WRIGHT. DANIELA O'MARA won the Fitness Class and JAN JOHNSON won the Figure Class and PAUL JAYILAN won the Novice Class. All rounds and awards are included plus the KING OF THE BENCH pro bench press contest.
Includes a great Photo Gallery.

2008 Australian Grand Prix Results:

1. Dexter Jackson USA
2. Melvin Anthony USA
3. Moe El Moussawi NZ
4. Toney Freeman USA
5. Troy Alves USA
6. Ronny Rockel Germany
7. Sergey Shelestov Russia
8. Jaroslav Horvath Slovakia
9. Martin Kjellstrom Sweden
10. Oscar Tua Dexter Tahiti
11. Con Demetriou Australia
12. Michael Kingsnorth NZ
13. Oliver Adzievski Sweden
14. Bola Ojex Nigeria
15. Salah Ibrahim NZ
***********************************
DVD CONTENTS and RUNNING TIMES:
Disc # 1 – NPC ALL STATES BB CHAMPIONSHIPS - 110 mins
The complete amateur contest, men and women.
King of the Bench pro benchpress contest
Total running time Disc #1 110 mins mins
Disc #2 – AUSTRALIAN GRAND PRIX
The Prejudging & Finals, posedown and awards.
* All 15 competitors are individually selectable from the menu.
Running time Disc #1: 115 mins
Extra Scenes:
Pro Pump Room - 6 mins
Daniela O'Mara Guest Fitness Routine 2 mins
3 pros working out in the gym (Demetriou, Shelestov and Ojex) - 10 mins
Photo Gallery - 58 photos
Total running time Disc #2: 133 mins



Running Time: 243 mins

* Available in NTSC DVD Only (Region Free)
* THIS DVD WILL PLAY ON ANY DUAL SYSTEM NTSC / PAL DVD PLAYER AND TV. Or any PC DVD.