Details: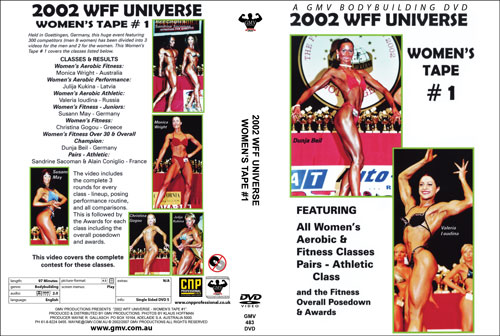 2002 WFF Universe: The Women - Tape # 1
Held in Goettingen, Germany, this huge event featuring 300 competitors (men & women) has been divided into 3 videos for the men and 2 for the women. This Women's Tape # 1 covers the classes listed below.
CLASSES, WINNERS & RESULTS
Women's Aerobic Fitness:
Monica Wright - Australia
Women's Aerobic Performance:
Julija Kukina - Latvia
Women's Aerobic Athletic:
Valeria Ioudina - Russia
Women's Fitness - Juniors:
Susann May - Germany
Women's Fitness:
Christina Gogou - Greece
Women's Fitness Over 30 & Overall Champion:
Dunja Beil - Germany
Pairs - Athletic:
Sandrine Sacoman & Alain Coniglio - France
The video includes the complete 3 rounds for every class - lineup, posing performance routine, and all comparisons.
This is followed by the Awards for each class including the overall posedown and awards.

This video covers the complete contest for these classes listed above.

FOR THE COMPLETE LIST OF ALL COMPETITORS AND RESULTS AS SEEN IN THIS TAPE, SEE BELOW.
Women's Aerobic Fitness


1 Monica Wright Australia
2 Cornelia Trost Germany
3 Jolante Mileriute Lithuania



Women's Aerobic Performance


1 Julija Kukina Latvia
2 Maryna Bukharava Belarus



Women's Aerobic Athletic


1 Valeria Loudina Russia
2 Olga Yakovleva Russia



Women's Fitness Junior


1 Susann May Germany
2 Alexandra Hinterbauer Austria
3 Vicky Efstathiou Greece
4 Tatsiana Platkouskaya Belarus



Women's Fitness


1 Christina Gogou Greece
2 Afroditi Kokkinou Greece
3 Sabine Meusel Germany
4 Chantelle Tanke Holland
5 Tanja-Leona Meyer Germany
6 Ingrid Neuhofer Austria
7 Tanja Dietrich Holland
8 Sandra Tilke Germany



Women's Fitness Over 30


1 Dunja Beil (Overall winner) Germany
2 Melanie Helfrich Germany
3 Anna-Maria Konstantinidou Greece
4 Jolanda Beuving Holland
5 Emma Rutz Germany
6 Marina Burinskaja Latvia
7 Jana Maier Germany
8 Maddalena Colombo Italy
9 Isabelle Manguera France
Pairs - Athletic
1 Sandrine Sacoman/Alain Coniglio France
2 Valeria Loudina/German Shelest Russia
3 Veronique & Christophe Ducos France
4 Ingrid & Christian Neuhofer Austria
5 Julija Kukina/Jurijs Karsecjans Latvia
6 Marina Burinskaja/Nikolai Kornosev Latvia
7 Iva Jurkovic/Jaksic Vedran Croatia

Running time: 97 mins

* Available in NTSC DVD Only (Region Free)
* THIS DVD WILL PLAY ON ANY DUAL SYSTEM NTSC / PAL DVD PLAYER AND TV.