Details: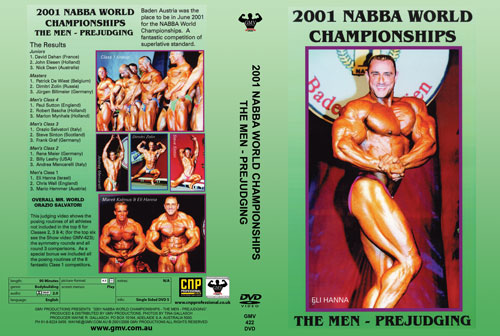 2001 NABBA World Championships: The Men - Prejudging
Baden Austria was the place to be in June 2001 for the NABBA World Championships. A fantastic competition of superlative standard.
This Men's Prejudging DVD shows the posing routines of all athletes not included in the top 6 for Classes 2, 3 & 4; (for the top six see the Show video GAMM-423DVD); the symmetry rounds and all round 3 comparisons. As a special bonus we included all the posing routines of the 8 fantastic Class 1 competitors.

The Results:

Juniors
1. David Dahan (France)
2. John Elesen (Holland)
3. Nick Dean (Australia)

Masters
1. Patrick De Wiest (Belgium)
2. Dimitri Zolin (Russia)
3. Jürgen Billmeier (Germany)

Men's Class 4
1. Paul Sutton (England)
2. Robert Bascha (Holland)
3. Marlon Mynhals (Holland)

Men's Class 3
1. Salvatori Orazio (Italy)
2. Steve Sinton (Scotland)
3. Frank Graf (Germany)

Men's Class 2
1. Rene Meier (Germany)
2. Billy Leahy (USA)
3. Andrea Mencarelli (Italy)

Men's Class 1
1. Eli Hanna (Israel)
2. Chris Wall (England)
3. Mario Hemmer (Austria)
OVERALL MR. WORLD
SALVATORI ORAZIO - Italy

SPECIAL NOTE.
IN 2007 SALVATORI ORAZIO WON THE DOUBLE AT THE NABBA UNIVERSE. HE WON BOTH THE OVERALL AMATEUR UNIVERSE AND ALSO THE PRO-AM UNIVERSE.

Running time: 90 mins

* Available in NTSC DVD Only (Region Free)
* THIS DVD WILL PLAY ON ANY DUAL SYSTEM NTSC / PAL DVD PLAYER AND TV.