Details: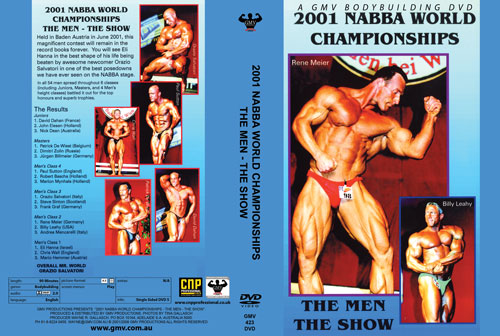 2001 NABBA WORLD CHAMPIONSHIPS: THE MEN - THE SHOW
Held in Baden Austria in June 2001, this magnificent contest will remain in the record books forever. You will see Eli Hanna in the best shape of his life being beaten by awesome newcomer Salvatori Orazio in one of the best posedowns we have ever seen on the NABBA stage.
In all 54 men spread throughout 6 classes (including Juniors, Masters, and 4 Men's height classes) battled it out for the top honours and superb trophies.

See the top 6 pose in every class through to posedowns and all the awards.
The Results:

Juniors
1. David Dahan (France)
2. John Elesen (Holland)
3. Nick Dean (Australia)

Masters
1. Patrick De Wiest (Belgium)
2. Dimitri Zolin (Russia)
3. Jürgen Billmeier (Germany)

Men's Class 4
1. Paul Sutton (England)
2. Robert Bascha (Holland)
3. Marlon Mynhals (Holland)

Men's Class 3
1. Salvatori Orazio (Italy)
2. Steve Sinton (Scotland)
3. Frank Graf (Germany)

Men's Class 2
1. Rene Meier (Germany)
2. Billy Leahy (USA)
3. Andrea Mencarelli (Italy)

Men's Class 1
1. Eli Hanna (Israel)
2. Chris Wall (England)
3. Mario Hemmer (Austria)
OVERALL MR. WORLD
SALVATORI ORAZIO - Italy

SPECIAL NOTE.
IN 2007 SALVATORI ORAZIO WON THE DOUBLE AT THE NABBA UNIVERSE. HE WON BOTH THE OVERALL AMATEUR UNIVERSE AND ALSO THE PRO-AM UNIVERSE.

Running time: 90 mins

* Available in NTSC DVD Only (Region Free)
* THIS DVD WILL PLAY ON ANY DUAL SYSTEM NTSC / PAL DVD PLAYER AND TV.