Details: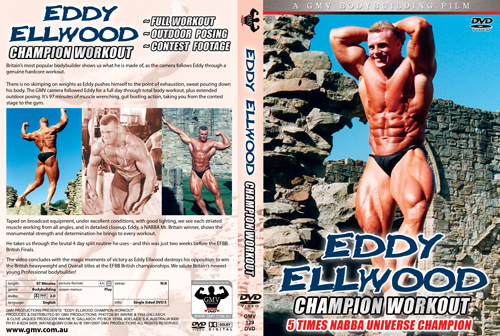 Eddy Ellwood - Champion Workout - 5 Times NABBA Universe Champion

"This is a portrait of an all time British Champion and multi Mr. Universe winner!"

In this DVD one of Britain's most popular young bodybuilders shows us what he is made of, as the camera follows Eddy through a genuine, gruelling hardcore workout.
There is no skimping on weights as Eddy pushes himself to the point of exhaustion, sweat pouring down his body. The GMV camera followed him for a full day through a total body workout, plus extended outdoor posing. It's 97 minutes of muscle wrenching, gut busting action, taking you from the contest stage to the gym, to posing and interview.
Taped on broadcast equipment, under excellent conditions, with good lighting, we see each striated muscle working from all angles, and in detailed closeup. Eddy, a NABBA Mr. Britain winner, shows the monumental strength and determination he brings to every workout.
He takes us through the brutal 4 day split routine he uses - and this was just two weeks before the EFBB British Finals. (On a historical note, Eddy subsequently won the British Championships, got his IFBB Pro card, competed as a pro and then made a huge comeback to NABBA. He subsequently won 5 NABBA Pro Universe titles over 5 consecutive years, now holding the record for the most NABBA Universe victories. He presently competes in Strongman Events.)
The video concludes with the magic moment of victory as Eddy Ellwood outclasses his opposition to win the British heavyweight and Overall titles at the EFBB British championships. We salute Britain's newest young Professional bodybuilder at the time of this video!

As an added bonus we include a special guest gym appearance by Mr. Universe, Terry Fisher.

Training - Posing - Interview, this DVD is highly motivational.
Big blond Eddy Ellwood stands 6' 1" tall, (1.83 cm) and is a ripped 250 lbs
(114 kg) in our tape. The outdoor posing and pumping segment was beautifully photographed at the ruins of Finchale Priory in County Durham. Eddy risked his life and limb for this posing finale, high up on a crumbling wall, outlined against a brilliant blue sky.
Eddy's workout was taped at his father's Ellwood's Gym, Horden, Co. Durham in the north of England.



Running time: 97 mins

* Available in NTSC DVD Only (Region Free)
* THIS DVD WILL PLAY ON ANY DUAL SYSTEM NTSC / PAL DVD PLAYER AND TV.