Details: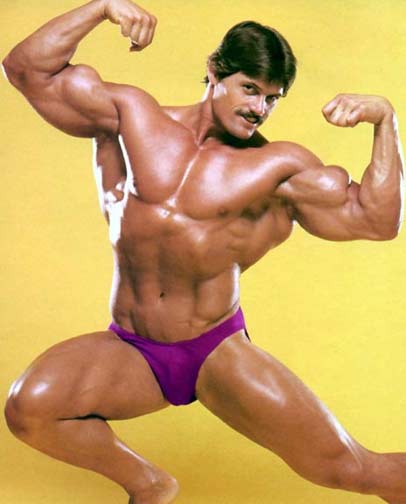 CLASSIC CONTESTS - 1977 Mr. America, 1977 Mr. U.S.A.
'77 AAU Mr. America - See the full posing routines of the top 9 men, just as the judges saw them. You'll see: Jeff King, Don Peterson, Tom Platz, Ron Teufel, Dave Johns, Doug Beaver, C.F. Smith, Clint Beyerle, Pete Grymkowski and Manuel Perry. Includes some compulsories from the Prejudging.
There are fantastic posedowns of all the top men from each class, and intense "side-by-side" muscle battles. DAVE JOHNS won the title and later went on to win the NABBA Amateur Mr Universe crown. MAE WEST presented the trophy to Dave Johns in what was we believe her final public appearance. What a shame we were not able to record her priceless comments to Dave and the other placegetters.
This segment runs for 40 mins.
'77 AAU Mr. U.S.A. - You'll see these stars of the 70s: Rod Koontz, Billy Arlen, Richard Baldwin, Joe Means, Floyd Odom, Pat Neve and C.F. Smith. This was an intense battle, with Smith being disqualified by the judges for continual posing during the "stand relaxed" instruction from the judges. It was a most controversial decision as SMITH was exceedingly popular with the huge crowd who felt cheated by his harsh exclusion. ROD KOONTZ won the title which possibly may have gone to Smith if it had not been for this incident! Draw your own conclusions from the RESULTS below.
C.F. Smith was a Medical Doctor, see photo below.
This amazing segment runs approx 15 mins.
TRT of this DVD is 55 minutes of Class Contest Muscle Flexing Action!
These 2 Classic Contests were filmed by Wayne Gallasch on silent Super 8 film, transferred to video and then to DVD with background music added. They are the only known film records of these 2 wonderful events. See Results and Photos below.
1977 AAU Mr America - Results:
Overall Winner Dave Johns
Tall Class
1 Manuel Perry
2 Clint Beyerle
3 Pete Grymkowski
4 Dave Rogers
5 Dave Dupree
6 Saladin Ibn El Amin
7 Floyd Odom
8 Dennis Holmes
9 Louie Perotta

Medium Class
1 Dave Johns
2 C F Smith
3 Douglas Beaver
4 Lawrence Gordon
5 Patrick Ruelle
6 Charles Amato
7 Dominick Coroniti
8 Robert Reis
9 Lance Dreher
10 Nathan LeBlanc
11 Vic Seipke
12 Alan Katoa
13 Alex McNeil
14 William Chapoton
15 Tom James
16 Benny Crawford
17 Sam Sanchez
18 James Pittman

Short Class
1 Ron Teufel
2 Tom Platz
3 Don Peterson
4 Andreas Cahling
5 Ron Neff
6 Robert Jodkiewicz
7 Bill Register
8 Bob May
9 Larry Gordon
10 Dominick DiBetta
11 Donald Dawson

Most Muscular Man Award
1 Dave Johns
2 Ron Teufel
3 Clint Beyerle
1977 AAU Mr USA - Results:
Overall Winner Rod Koontz
Tall Class
1 Rod Koontz
2 Floyd Odom
3 Ron McBeath

Medium Class
1 C F Smith (Disqualified)
2 Billy Arlen
3 Richard Baldwin

Short Class
1 Anthony Pandolfo
2 Mike Arnold
3 Robbie Gore
Wayne subsequently shot videos with many of the stars from these 2 events and they included :
MANUEL PERRY
CLINT BEYERLE
PETE GRYMKOWSKI
RICHARD BALDWIN
DOUG BEAVER
LARRY GORDON
LANCE DREHER
RON TEUFEL
TOM PLATZ
BILLY ARLEN
TONY PANDOLFO

Running time: 60 mins

* Available in NTSC DVD Only (Region Free)
* THIS DVD WILL PLAY ON ANY DUAL SYSTEM NTSC / PAL DVD PLAYER AND TV.