Details: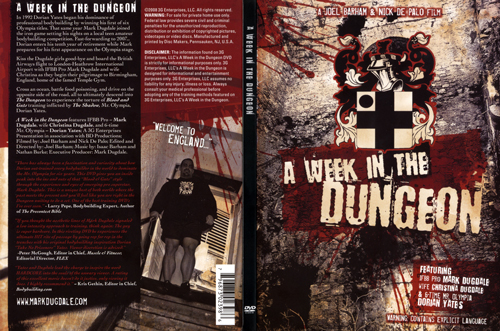 Mark Dugdale - A Week In The Dungeon DVD

In 1992 Dorian Yates began his dominance of professional bodybuilding by winning his first of six Olympia titles. That same year, Mark Dugdale joined the iron game setting his sites on a local teen amateur bodybuilding competition. Fast-forwarding to 2007... Dorian enters his tenth year of retirement while Mark prepares for his first appearance on the Olympia stage.
Kiss the Dugdale girls good-bye and board the British Airways flight to London-Heathrow International Airport with IFBB Pro Mark Dugdale and wife Christina as they begin their pilgrimage to Birmingham, England, home of the famed Temple Gym. Cross an ocean, battle food poisoning and drive on the opposite side of the road, all to ultimately descend into The Dungeon to experience the torture of blood and guts training inflicted by The Shadow, Mr. Olympia, Dorian Yates.
A Week in the Dungeon features IFBB pro - Mark Dugdale, wife Christina Dugdale, and 6-time Mr. Olympia - Dorian Yates.
This is a "MUST HAVE" DVD for all Dorian fans.
Chapters:
1. Introduction
2. Departure
3. Arrival
4. Sick
5. Walk to the Gym
6. Chest & Biceps
7. Best in the World
8. Shoulders & Triceps
9. Beach
10. Quadriceps
11. Kevin Horton
12. Back
13. Lunch with Dorian
14. Going Home
15. Credits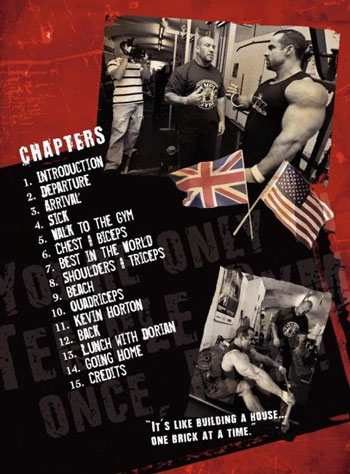 "There has always been a fascination and curiosity about how Dorian out-trained every bodybuilder in the world to dominate the Mr. Olympia for six years. This DVD gives you an inside peek into the ins and outs of that "Blood & Guts" style through the experience and eyes of emerging pro superstar, Mark Dugdale. This is a unique best of both worlds where the past meets the present and you'll feel like you are right in the Dungeon waiting to do a set. One of the best training DVD's I've ever seen."
- Larry Pepe Bodybuilding Expert
Author of The Precontest Bible

"If you thought the aesthetic lines of Mark Dugdale signaled a low intensity approach to training, think again: The guy is super hardcore. In this riveting DVD he experiences the ultimate HIT rite of passage by going rep for rep in the trenches with his original bodybuilding inspiration Dorian "Take No Prisoners" Yates. Viewer discretion is advised."
- Peter McGough Editor in Chief, Muscle & Fitness
Editorial Director, FLEX

"Yates and Dugdale lead the charge to inspire the word HARDCORE into the souls of the unwary viewer. A rating of this excellent movie doesn't do it justice, only viewing it does. I highly recommend it."
– Kris Gethin



Running Time: 90 mins

* Available in NTSC DVD Only (Region Free)
* THIS DVD WILL PLAY ON ANY DUAL SYSTEM NTSC / PAL DVD PLAYER AND TV. Or any PC DVD.