Details: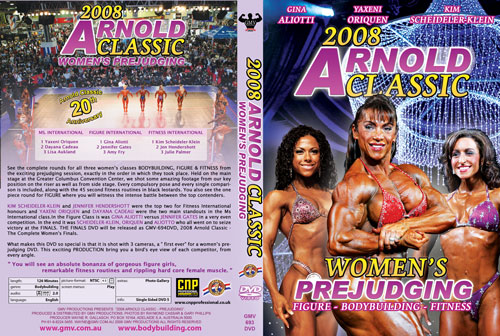 2008 Arnold Classic Complete Women's Prejudging - Ms International, Figure International and Fitness International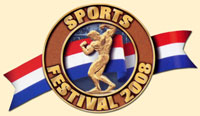 See the complete rounds for all three women's classes - BODYBUILDING, FIGURE & FITNESS from the exciting prejudging session, held on the main stage at the Greater Columbus Convention Center. The Prejudging is shown exactly as it took place, with the order of rounds listed below under CONTENTS.
We shot some amazing footage from our key position on the riser as well as from side stage. Every compulsory pose and every single comparison is included, along with the 45 second fitness routines in black leotards. You also see the hard fought rounds for FIGURE where you will witness the intense battle between the top contenders.
KIM SCHEIDELER-KLEIN and JENNIFER HENDERSHOTT battled it out yet again for Fitness International honours and YAXENI ORIQUEN and DAYANA CADEAU were the two main standouts in the Ms International class.

In the Figure Class is was GINA ALIOTTI versus JENNIFER GATES in a very even competition. In the end it was SCHEIDELER-KLEIN, ORIQUEN and ALIOTTI who all went on to seize victory at the FINALS.

A FIRST WITH 3 CAMERAS AT THE PREJUDGING!
What makes this DVD so special is that it is shot with 3 cameras, a "first ever" for a women's prejudging DVD. This exciting presentation bring you a bird's eye view of each competitor, from every angle from walk-on to the end of each section. Always bringing you the best possible angle and close-us on each competitor. We feel it is the best, most exciting women's prejudging DVD we have ever offered.
CONTENTS:
You will see these chapters in this order:
(Round 1 is One Piece and Round 2 is 2 Piece.)
Opening – Introduction to the prejudging by Clint Richards
Fitness Round 1 Solo
Fitness Round 1 Comparisons
Figure Round 1 Solo
Figure Round 1 Comparisons
Fitness Round 2 Solo
Fitness Round 2 Comparisons
Figure Round 2 Solo
Figure Round 2 Comparisons
Fitness Round 3 Routines 45 seconds
Bodybuilding Mandatory Poses
Bodybuilding Comparisons

COMPLETE RESULTS:
Ms International

1 Yaxeni Oriquen
2 Dayana Cadeau
3 Lisa Aukland
4 Betty Pariso
5 Brenda Raganot
6 Cathy LeFrancois
7 Betty Viana-Adkins
7 Iris Floyd Kyle
9 Annie Rivieccio
10 Rosemary Jennings
11 Tazzie Colomb
12 Debi Laszewski
13 Antoinette Thompson
14 Kristy Hawkins
15 Colette Nelson
16 Tracy Beckham
Figure International
1 Gina Aliotti
2 Jennifer Gates
3 Amy Fry
4 Chastity Slone
5 Sonia Adcock
6 Paola Almerico
7 Latisha Wilder
8 Catherine Andersen
8 Natalie Benson
10 Kristal Richardson
11 Nicole Wilkins
12 Juliana Malacarne
13 Briana Tindall
14 Deborah Leung
15 Bernadette Galvan
16 Brenda Marie Smith
Fitness International
1 Kim Scheideler-Klein
2 Jen Hendershott
3 Julie Palmer
4 Julie Lohre
5 Tracey Greenwood
6 Regiane Da Silva
7 Stacy Simons
8 Bethany Gainey
9 Mindi Obrien
10 Oksana Grishina
11 Tina Durkin
12 Tanya Merryman
"In this DVD you will see an absolute bonanza of gorgeous figure women, remarkable fitness routines and rippling hard core female muscle."
Includes a photo gallery from the Prejudging.

Running Time: 126 mins

* Available in NTSC DVD Only (Region Free)
* THIS DVD WILL PLAY ON ANY DUAL SYSTEM NTSC / PAL DVD PLAYER AND TV. Or any PC DVD.