Details: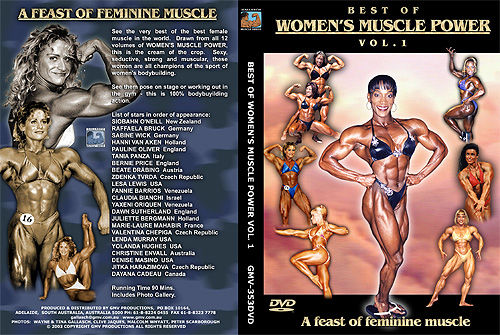 BEST OF WOMEN'S MUSCLE POWER VOL. 1

See the very best of the best female muscle in the world. Drawn from all 12 volumes of WOMEN'S MUSCLE POWER, this is the cream of the crop.
Sexy, seductive, strong and muscular, these women are all champions of the sport of women's bodybuilding.

See them pose on stage or working out in the gym - this is 100% bodybuyilding action.

List of stars in order of appearance:

SIOBAHN O'NEILL New Zealand
RAFFAELA BRUCK Germany
SABINE WICK Germany
HANNI VAN AKEN Holland
PAULINE OLIVER England
TANIA PANZA Italy
BERNIE PRICE England
BEATE DRÄBING Austria
ZDENKA TVRDA Czech Republic
LESA LEWIS USA
FANNIE BARRIOS Venezuela
CLAUDIA BIANCHI Israel
YAXENI ORIQUEN Venezuela
DAWN SUTHERLAND England
JULIETTE BERGMANN Holland
MARIE-LAURE MAHABIR France
VALENTINA CHEPIGA Czech Republic
LENDA MURRAY USA
YOLANDA HUGHES USA
CHRISTINE ENVALL Australia
DENISE MASINO USA
JITKA HARAZIMOVA Czech Republic
DAYANA CADEAU Canada

Running Time: 95 mins

* Available in NTSC DVD Only (Region Free)
* THIS DVD WILL PLAY ON ANY DUAL SYSTEM NTSC / PAL DVD PLAYER AND TV. Or any PC DVD.