Details: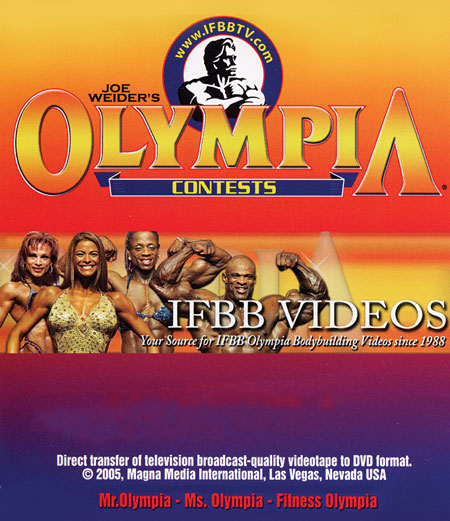 2002 Mr. Olympia

2002 MR. OLYMPIA. SEE MORE MUSCLE, SAME PRICE! All the dynamic, dramatic posing routines, all the action!
COMPLETE RESULTS:
1. Ronnie Coleman
2. Kevin Levrone
3. Chris Cormier
4. Dexter Jackson
5. Gunter Schlierkamp
6. Lee Priest
7. Flex Wheeler
8. Markus Ruhl
9. Orville Burke
10. Dennis James
11. Craig Titus
12. Art Atwood
13. Ahmad Haidar
14. Ernie Taylor
15. Nasser El Sonbaty
The following were placed 16th
Gustavo Badell
Francisco Bautista
Darrem Charles
Bob Cicherillo
George Farah
Claude Groulx
Jaroslav Horvath
King Kamali
Tommi Thorvildsen
Don Youngblood

This is an authorized and licensed copy made directly from the broadcast-quality master tape. It does not come with the original video cover information.

Running Time: 125 mins

* Available in NTSC DVD Only (Region Free)
* THIS DVD WILL PLAY ON ANY DUAL SYSTEM NTSC / PAL DVD PLAYER AND TV. Or any PC DVD.