Details: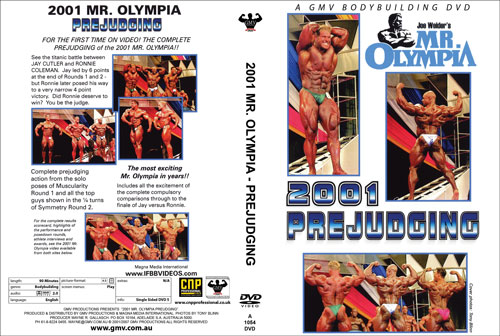 2001 MR. OLYMPIA: THE PREJUDGING
SEE THE MR OLYMPIA PREJUDGING FOR THE FIRST TIME EVER ON DVD!

THE COMPLETE PREJUDGING of the 2001 MR. OLYMPIA!!

The "real contest" at the Mr. Olympia was the prejudging. It was a titanic battle between the monstrous marvel RONNIE COLEMAN and the ripped golden boy JAY CUTLER. Jay led by 6 points at the end of Rounds 1 and 2 - but Ronnie later posed his way to a very narrow 4 point victory. Did Ronnie deserve to win? You be the judge.

Jay Cutler came from nowhere to capture second place. We also saw one of the favourites in Chris Cormier go to 5th place and Nasser El Sonbaty drop to 9th place. It was an extremely exciting evening Finals show!

This Prejudging DVD presents all the action from the solo poses of Prejudging Muscularity Round 1 and all the top guys shown in the ¼ turns of Symmetry Round 2. Includes all the excitement of the complete compulsory comparisons through to the final callout which was Jay versus Ronnie.
The most exciting Mr. Olympia in years!!


2001 Mr. Olympia Results
October 27, 2001 at Las Vegas, Nevada.

1 Ronnie Coleman USA
2 Jay Cutler USA
3 Kevin Levrone USA
4 Shawn Ray USA
5 Chris Cormier USA
6 Orville Burke USA
7 Dennis James USA
8 Dexter Jackson USA
9 Nasser El Sonbaty Yugoslavia
10 Shari 'King' Kamali USA
11 Melvin Anthony USA
12 Craig Titus USA
13 Vince Taylor USA
14 Markus Ruhl Germany
15 Gunter Schlierkamp Germany
16 Tom Prince USA
17 J.D. Dawodu England
18 Darrem Charles Trinadad
19 Pavol Jablonicky Czech Rep
20 Claude Groulx Canada

Running time: 90 mins

* Available in NTSC DVD Only (Region Free)
* THIS DVD WILL PLAY ON ANY DUAL SYSTEM NTSC / PAL DVD PLAYER AND TV.