Details: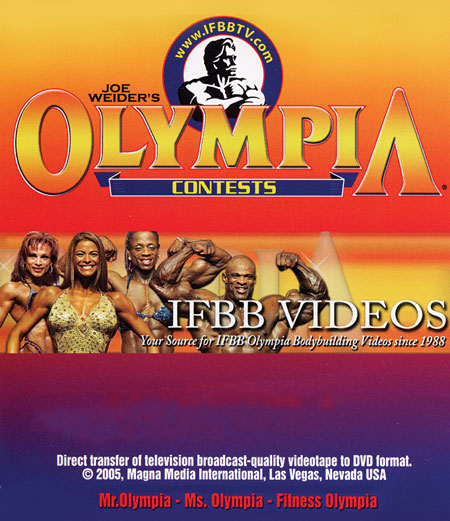 2000 Mr. Olympia (Historic DVD)

2000 MR. OLYMPIA. "Mr. Perfect" Ronnie Coleman wins every round in this decisive victory, closely followed by Kevin Levrone in a near-unanimous silver medal finish over Flex Wheeler. Fantastic video coverage of the world's greatest physiques!

Competitors were: Ronnie Coleman, Kevin Levrone, Flex Wheeler, Shawn Ray, Nasser El Sonbaty, Lee Priest, Markus Ruhl, Jay Cutler, Dexter Jackson, Orville Burke , Dennis James, Gunter Schlierkamp, Oleg Zhur.
This 90-minute video includes both "muscularity round" prejudging highlights and complete awards ceremonies -- order yours today!
This is an authorized and licensed copy made directly from the broadcast-quality master tape. It does not come with the original video cover information.
Final Placings were as follows:
1st Ronnie Coleman
2nd Kevin Levrone
3rd Flex Wheeler
4th Shawn Ray
5th Nasser El Sonbaty
6th Lee Priest
7th Markus Rühl
8th Jay Cutler
9th Dexter Jackson
10th Orville Burke
11th Dennis James
12th Günter Schlierkamp
13th Oleg Zhur

Running Time: 85 mins

* Available in NTSC DVD Only (Region Free)
* THIS DVD WILL PLAY ON ANY DUAL SYSTEM NTSC / PAL DVD PLAYER AND TV. Or any PC DVD.