Details: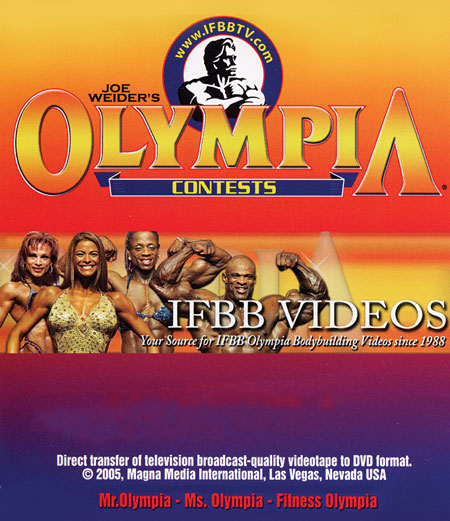 1999 MR. Olympia (Historic DVD)

RONNIE MAKES IT TWO IN A ROW: Heroic Ronnie Coleman wins a "perfect" victory, getting unanimous first-place votes in every round. Flex Wheeler was equally unanimous in his second round placing, as was Chris Cormier in third!

Ron Coleman (1), Flex Wheeler (2), Chris Cormier (3), Kevin Levrone (4), Shawn Ray (5), Nasser El Sonbaty (6), Paul Dillet (7), Lee Priest (8), Dexter Jackson (9), Milos Sarcev (10). Also shown: Jay Cutler, Jean-Pierre Fux, Pavol Jablonicky, Mike Matarazzo, Markus Ruhl, Ernie Taylor.
This is an authorized and licensed copy made directly from the broadcast-quality master tape. It does not come with the original video cover information.

Running Time: 95 mins

* Available in NTSC DVD Only (Region Free)
* THIS DVD WILL PLAY ON ANY DUAL SYSTEM NTSC / PAL DVD PLAYER AND TV. Or any PC DVD.