Details: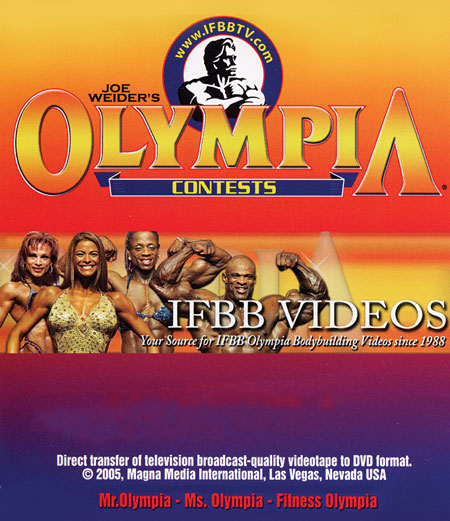 1988 Mr. Olympia Historic DVD

STRYDOM! DeMEY! PARIS! BENAZIZA! GASPARI!

Haney wins with a perfect score in what was the largest-grossing show to date in the Universal Amphitheater in Los Angeles. This beautifully staged contest remains a classic and all-time favorite featuring great bodybuilding stars.

The competitors were Lee Haney (1) with a perfect score, Rich Gaspari (2), Berry deMey (3), Lee Labrada (4), Gary Strydom (5), Mike Quinn (6), Brian Buchanon (7), Samir Bannout (8), Ron Love (9), Bob Paris (10), Mohamed Benaziza (11), Phil Hill (12), Shawn Ray (13), Michael Ashley (14), Albert Beckles (15), Eduardo Kawak (16), Robby Robinson (17), Peter Hensel (18), Luiz Freitas (19), Ralf Moeller (20).

This is an authorized and licensed copy made directly from the broadcast-quality master tape. It does not come with the original video cover information.

1988 Mr. Olympia Results:
September 10, 1988 at Los Angeles, California

Over 6,000 fans gathered at the Universal Amphitheater for this main event. It was the only Olympia in which the contenders were officially weighed, at a press conference on Thursday, September 8th, 48 hours prior to prejudging. Each entrant had an identical boxing robe as they came in to be weighed, providing a mystique but even playing field to the whole procedure.

1 Lee Haney
2 Rich Gaspari
3 Berry DeMey
4 Lee Labrada
5 Gary Strydom
6 Mike Quinn
7 Brian Buchanan
8 Samir Bannout
9 Ron Love
10 Bob Paris
11 Mohamed Benaziza
12 Phil Hill
13 Shawn Ray
14 Mike Ashley
15 Al Beckles
16 Ed Kawak
17 Robby Robinson
18 Peter Hensel
19 Luiz Freitas
20 Ralf Moeller

Running Time: 85 mins

* Available in NTSC DVD Only (Region Free)
* THIS DVD WILL PLAY ON ANY DUAL SYSTEM NTSC / PAL DVD PLAYER AND TV. Or any PC DVD.