Details: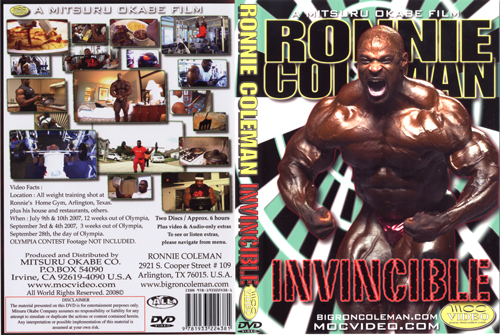 Ronnie Coleman – Invincible 2 Disc Set

The first part of this DVD was shot on July 9th and 10th 2007 on Ronnie's final off-season week. This was 12 weeks out from the 2007 Olympia. Then more taping again on September 3rd and 4th, 2007 - just 3 weeks out from last year's Olympia.
The DVD includes a final body check by Ronnie's nutritionist Chad Nicholls on the day of the Olympia, September 28th, 2007 in his hotel room.
Ronnie mentions that his diet has changed from last year and explains how and why. His weight training regime has also changed. All training sessions were shot at Big Ron's home gym in Texas.
CONTENTS:

Ronnie speaks out I & II.
How he became a bodybuilder. (17mins )
How he got his pro card. (14mins ).
Audio only version of Ronnie's car history and some more things. (26min.) (Ronnie is a big car collector)
Fun Extra Scenes ( 2mins)
Also include Ronnie's delts workout scenes from BFO 2007 to complete a whole body workout. (Duplicated footage from The battle for the Olympia 2007. )

Running Time: 360 mins

* Available in NTSC DVD Only (Region Free)
* THIS DVD WILL PLAY ON ANY DUAL SYSTEM NTSC / PAL DVD PLAYER AND TV. Or any PC DVD.