Details: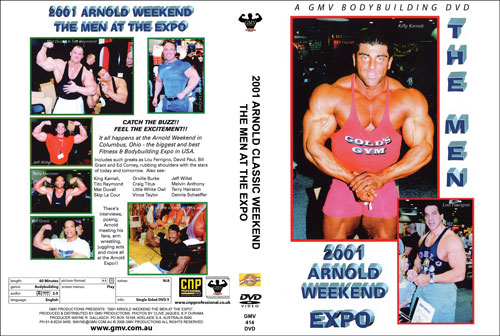 2001 Arnold Weekend: The Men at the Expo

CATCH THE BUZZ!! FEEL THE EXCITEMENT OF THE ARNOLD WEEKEND EXPERIENCE!!

It all happens at the Arnold Weekend in Columbus, Ohio at the biggest and best Fitness & Bodybuilding Expo in the world.

You will see such greats as Lou Ferrigno (lower front cover), David Paul, Bill Grant and Ed Corney, rubbing shoulders with the stars of today and stars of the future. GMV captures posing and/or interviews with all of these stars.

You also see the following big names in this feature:

King Kamali (upper front cover)
Tito Raymond
Mat Duvall
Skip La Cour
Orville Burke
Craig Titus
Little White Owl
Vince Taylor
Jeff Willet
Melvin Anthony
Terry Hairston
Dennis Schaeffer

Running time: 60 mins

* Available in NTSC DVD Only (Region Free)
* THIS DVD WILL PLAY ON ANY DUAL SYSTEM NTSC / PAL DVD PLAYER AND TV.