Details:


THE FIGURE SEMINAR DVD 2 Disc Set

If you could not attend the seminar this is your chance to enjoy the Figure Show DVD set that teaches you all that you need to know about Figure Training and posing.

WHAT'S ON THE DVD?:
TRAINING, POSING, DIETING, INSPIRATION AND MORE! Surprises! Go backstage live at a real show. See what it really takes to win and compete. This is Figure, 100%. Complete full body workout, posing lessons, training lessons, and more.
THE FIGURE SEMINAR IS NOT YOUR USUAL BORING SEMINAR! ( You know what I am talking about ). IT WAS PRODUCED as an educational TV show, and it is fantastic. It entertains and teaches. If you love Figure this is your show. Highly entertaining and informative. Includes live backstage footage of The Figure Coaches competing.

LEARN TO WIN AND WHY YOU CAN! Complete posing lessons. The DVD includes extra's including: DIET 101 and a full body workout with Amy, Wendy and Julie. Exercises for everybody part.
Your chance to meet the Figure Coach team. Watch them teach posing, train and more. Let them inspire you. Learn why people from all over the world have come to train with Master Trainer Dan Burke and The Figure Coach Team.
THE COMPLETE SEMINAR ON FILM! Guests. Posing. Talks. and MORE!
OVERCOMING DIET FAILURES! Learn to diet successfully.
LIVE BACKSTAGE and ONSTAGE, in the dressing room, at a LIVE, NPC show. Filmed in spring 2006. Exciting as hell! This rocks! You love Figure? You will love this. 100% awesome.
Dan Talks: Embracing failure to achieve the ultimate success. Your mind is the key to your success. Think right, and start beating obstacles and not let them beat you.
COMPLETE POSING AND PRESENTATION LESSONS.
SURPRISE GUESTS! A National Champion ..stops by to wow the audience. We won't spoil the surprise.
COMPETING TO WIN AND LOOK YOUR BEST.
How to train to lose fat fast. Cardio, weights and diet.
Suits, make-up and more.
How to train. What to do. How often.
Exercise demonstration. Peaking exercises for competition.
The following topics will be discussed in detail:

Posing, Presentation, & Stage Walk This will be a live, working session lasting approximately 90 minutes. Individual presentation, group posing/quarter turns, and stage walks will be assessed, critiqued, and improvised.

Suit & Costume Selection We will discuss how to choose a cut and color for your body type, what to look for and avoid, how to "fit" your suit and how to properly wear it for your show.

Hair, Make-up & Jewelry Selection We will discuss how to choose a flattering hairstyle, how to choose and apply make-up properly for onstage, and how to choose complementary jewelry for each round of competition.

Training & Nutrition Weight training, cardio, flexibility, nutrition and more will be discussed as we talk about how your training and diet changes in prep for competition.

Tanning & Oil We will talk about attaining a base tan, what tanning products to use and how they differ, how and when to use them, and how to apply oil/moisturizers. What to Bring TO A SHOW: What to bring, to be your best. What to leave behind.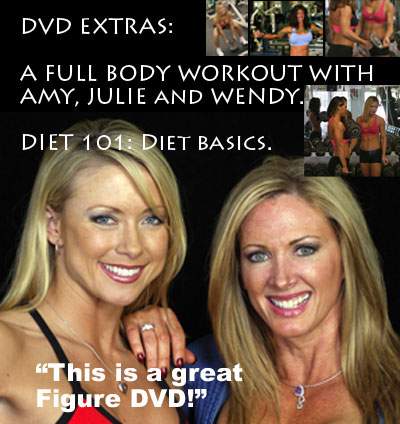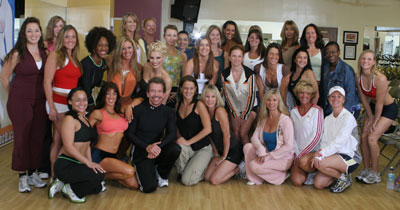 SO WHAT DO PEOPLE THINK OF THE SEMINAR DVD??
"This is an amazing movie. It made me cry and laugh. I liked, "The Figure Competition Training Guide", quite a bit, but this is an even better Figure movie. I loved it, and was very surprised. I did not think you would top your other Figure movie. I loved the Figure Show and the tips were great. The backstage live onstage part of the movie is really exciting it makes me want to compete--tomorrow! I really am fired up after watching this movie. You take us in the dressing room and backstage, from the athletes perspective. I loved it. It was awesome. What a surprise. I picked up more posing, competing, and training tips. No one does Figure better (than you). Thank you. I can't wait for your next movie." Robin A. Levittown, Pa.
"Dear Figure Coach. I just watched the Seminar DVD. I loved it. It was much more than I expected. This Figure movie is the best. I thought disc one was incredible, but disc 2 was even better. I loved The Figure Show, the posing, the Matrix, the "I Dream Of Jeanie" opening. The live competition section was a complete surprise and was very inspiring. I love Julie Green. That girl can pose. I could barely wait to train after I watched the movie. This is another fantastic Figure Movie. It's a perfect match to The Figure Competition Guide DVD. This one was just as instructive, but even more so. After watching both these films I feel confident I can compete and win. I will follow Dan's advice and get to work. I will be sure to come to your next live show. Thank you." Amanda C. Lakeland Fl.

Running time: 133 mins

* Available in NTSC DVD Only (Region Free)
* THIS DVD WILL PLAY ON ANY DUAL SYSTEM NTSC / PAL DVD PLAYER AND TV.