Details: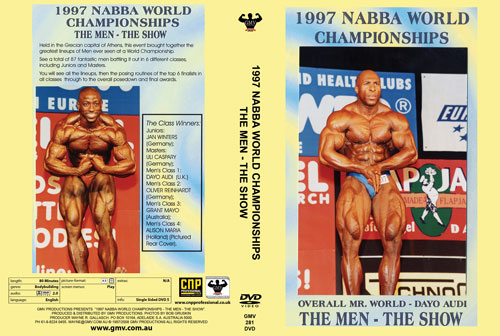 1997 NABBA World Championships: Men - The Show
Held in the Grecian capital, Athens, this event brought together the greatest lineups of Men and Women ever seen at a World Championships. Greece is the ancestral home of World Bodybuilding and also the Olympic Games.

The Men's Show video includes the posing routines of the top 6 competitors, through to the overall posedown and final awards.

As usual all the bodybuilders are titled as they appear on the screen. A superb quality 2 camera production. Dayo Audi pictured front cover.

1997 NABBA WORLD CHAMPIONSHIPS
ATHENS, GREECE – 7 JUNE 1997

MEN'S RESULTS AS SEEN IN THIS VIDEO.

Overall Winner: MR WORLD
Dayo Audi – UK

Click here for the 1997 NABBA World Men - Prejudging DVD, PCB-280DVD.
MASTERS
1 Uli Caspary Germany
2 Bernd Prause Germany
3 John Citrone UK
4 Graeme Lancefield Australia
5 Jack Vandensteen Holland
6 Camara Ousman France

JUNIORS
1 Jan Winters Germany
2 Mark Gibson USA
3 Stelios Ktistakis Greece

MEN CLASS 1
1 Dayo Audi UK
2 Eli Hanna Israel
3 Giovanni Thompson Holland
4 Hannes Engelschall Austria
5 Torsten Hala Germany
6 Konstantin Poutchkov Russia

MEN CLASS 2
1 Oliver Reinhardt Germany
2 Vin Wedderburn UK
3 Jack London USA
4 Patrick Coppens Belgium
5 Paolo Tamarri Italy
6 Aant Vandegruiter Holland

MEN CLASS 3
1 Grant Mayo Australia
2 Matthias Hornung Germany
3 Bill Bryson Australia
4 Fabrizio Franceshetti Italy
5 Herwe Defradas France
6 Ramsford Smith UK
MEN CLASS 4
1 Alison Maria Holland
2 Jason Corrick UK
3 Sammy Ayochok Philippines
4 Massimo Travan Italy
5 Charles Durr USA
6 Andrei Kroutenco Russia

Running time: 80 mins

* Available in NTSC DVD Only (Region Free)
* THIS DVD WILL PLAY ON ANY DUAL SYSTEM NTSC / PAL DVD PLAYER AND TV.