Details:


Strongman Battles of Strength 2 DVD set.
Disc #1 135 minutes.
Disc #2 120 minutes.
Total Running Time: 255 minutes.

This packed DVD brings you the best Strongman action and major strength highlights from the 2007 Iron Man FitExpo and 2007 Arnold Sports Festival. Not only will you see some of the most exciting Strongman action ever recorded on DVD, we include audience participation strength events as well. I refer to the exciting strength and endurance events from FitExpo 2007 with audience participation on the Bench Press with bodyweight and the Curl Competition. All in one huge 2 DVD set, packed with more than 4 massive hours of entertaining "battles of strength".
After winning this event 5 years in a row, many experts feel that Savickas can rightly lay claim to the title of THE STRONGEST MAN WHO EVER LIVED. This is based on total body pure old fashioned brute strength. Not speed and strength but sheer "animal brute strength!"
DVD Highlights:
In the Apollon's Wheels lift, 366 lbs, Savickas brought the weight to his shoulders 8 times and easily push pressed it to arms length each time.
In the Timber Lift, Andrus Murumets created a new record of carrying the 865 lbs timbers up the 36' incline ramp is an amazing 6.87 seconds.
In the Circus Dumbell lift (202 lbs with a 3" thick handle) Vasyl Virastyuk won this event with 6 repetitions in the time limit, being 3 each with his left and right hands.
If you can't stand the site of hands being shredded as skin is ripped off, or backs being strained, then this DVD set may not be for you!!
"See World Champions in action with PHIL PFISTER of USA and ZYDRUNAS SAVICKAS of Lithuania. Disc #2 also includes a dramatic Photo Gallery."
See in this order:
DISC #1 - from the Iron Man FitExpo.
* MET-Rx All-American Strongman Challenge - Part 1.
* Bodybuilding.com Log Lift.
* VYOTECH Stones of Strength.
* Muscle Milk Dead Lift Medley (objects from 600 to 800 pounds.)
* VPX MaxReps 4 Cash Bench Press competition.
* MET-Rx All-American Strongman Challenge - Part 2.
* Apex Overhead Lifting Medley.
* VPX MaxReps 4 Cash Biceps Curl competition.
* MET-Rx All-American Strongman Challenge - Part 3.
* MET-Rx Farmer's Medley.
* Results and Presentations. Winner Karl Gillingham of USA.
DISC #2 - From the Arnold Sports Festival.
* 6th Annual Arnold Strongman Classic.
* MHP Timber Lift (A new World Record time was achieved.)
* MHP Apollon's Wheels.
* 2007 Arnold Sports Festival Armwrestling Preliminaries (men & women.)
* MHP Circus Dumbbell Lift (A new record was created.)
* Results and Presentations. Winner 5th time in a row, Zydrunas Savickas.
* Photo Gallery.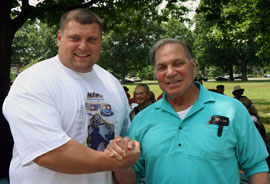 Bill Pearl congratulates Zydrunas Savickas on his recent Arnold Sports Festival Strongman victory.
Photo by Abakash Konopiaty
Competitors in the Strongman Competitions included:
At the FitExpo:
Karl Gillingham
Odd Haugen
Corey St. Clair
David Ostlund
Gerard Benderoth
Jason Bergmann
Ken Brown
Brad Dunn
Carl Foemmel
Dan Ford
Jim Glassman
Grant Higa
Ricardo Magni
Sam McMahon
Kevin Nee
Matt Parkes
Mark Philippi
Pete Konradt
Brian Shaw
Josh Thigpen
Marshall White
And more.
At the Arnold Sports Festival:
Results including points:
1st Zydrunas Savickas - Lithuania 52 points.
2nd Vasyl Virastyuk - Ukraine 48 points.
3rd Andrus Murumets - Estonia 38.5 points.
4th Phil Pfister - USA 36 points.
5th Oleksandr Pekanov - Ukraine 33 points.
5th Mikhail Koklyaev - Russia (tie) 33 points.
7th Brian Siders - USA 28.5 points
8th Steve MacDonald - USA 23 points.
9th Karl Gillingham - USA 19 points.
10th Travis Ortmayer - USA 17 points.

Photos courtesy The Iron Man FitExpo and Arnold Sports Festival.



Running time: 225 mins

* Available in NTSC DVD Only (Region Free)
* THIS DVD WILL PLAY ON ANY DUAL SYSTEM NTSC / PAL DVD PLAYER AND TV.