Details: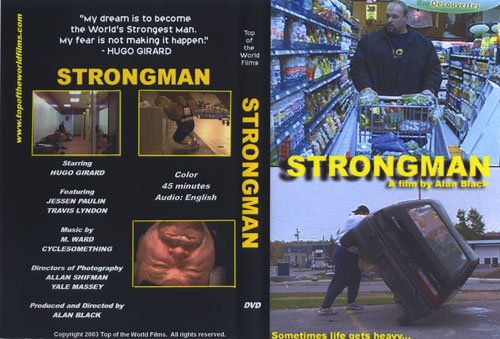 Hugo Girard - Strongman

"STRONGMAN" is a personal, intimate, and unique look at Hugo Girard, one of the strongest men on the planet. It reveals Hugo's deepest motivations, desires, and secrets. We follow Hugo from the gym, to his training compound, and finally to Louisiana where he competes to become "North America's Strongest Man". Along the way, we get a glimpse of Hugo's relationships with his wife, with his fellow athletes, and with the sport that he is determined to conquer. "STRONGMAN" is a film about passion, determination, hard work, and strength. It is a movie about a strongman the likes of which we have never seen before; and may never see again.
"You know you're alive when you have expectations, goals, and dreams. I can't understand somebody who doesn't have any passion…something to get them working harder or achieving something. Life is too short not to have any passion. It's passion that keeps you alive, keeps you dreaming, keep you wondering, keeps you trying." -Hugo Girard.

The movie is in English.

Running time: 45 mins

* Available in NTSC DVD Only (Region Free)
* THIS DVD WILL PLAY ON ANY DUAL SYSTEM NTSC / PAL DVD PLAYER AND TV.