Details: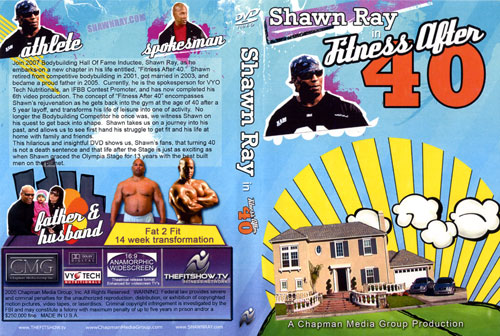 Shawn Ray - Fitness After 40

Join 2007 Bodybuilding Hall of Fame inductee, Shawn Ray, as he embarks on a new chapter in his life, "Fitness After 40." Shawn retired from competitive bodybuilding in 2001, got married in 2003 and became a proud father in 2005. He is the spokesperson for VYO Tech Nutritionals, IFBB Contest Promoter and has now completed his 6th Video production.

The concept of Fitness after 40, encompasses the rejuvenation of Shawn getting back into the gym at the age of 40 and transforming his sedentary life into one of activity and healthy eating once again after a 5 year layoff. No longer the Bodybuilding Competitor he once was but human and 40 like many others just like him. In Shawn's quest for getting back in shape, we witness a glimpse of Shawn Ray the man. Shawn takes us on a journey through his accomplishments, his struggle to get fit once more and shows us life after the stage at home with family and friends.
This Series & DVD shows us the fans that the age of 40 is not a death sentence and that life after the stage is as exciting to watch as when Shawn graced the Olympia Stage for 13 years with the best built men on the planet!



Running Time: 65 mins

* Available in NTSC DVD Only (Region Free)
* THIS DVD WILL PLAY ON ANY DUAL SYSTEM NTSC / PAL DVD PLAYER AND TV. Or any PC DVD.