Details: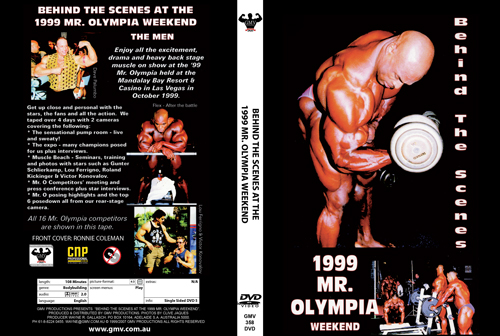 1999 Mr Olympia Pump Room & Behind the Scenes

This is an historic DVD of the stars of bodybuilding being our first ever Mr. Olympia Pump Room and Behind the Scenes DVD!!

Enjoy all the excitement, drama and heavy back stage muscle action on show at the '99 Mr. Olympia. Held at the Mandalay Bay Resort and Casino in Las Vegas in October 1999, this was our premiere Mr Olympia pump room video.

Get up close and personal with all 16 Mr Olympia competitors in the pump room, as they prepare to go out on stage. Feel the tension - the highs and the lows.

Amazing footage of Ronnie Coleman who was about to win his second Mr. Olympia crown.

For Ronnie's very own Super Hardcore Workout DVD, click here.

*The main part of the video is the pump room action.
*Mr. O posing highlights and the top 6 posedown and awards, all shot from our rear-stage camera.
*Mr. O competitors' meeting and press conference highlights.
*Pump room photo booth posing.
*Joe Amato's victory interview on stage with Ronnie Coleman.
The most interesting thing about this DVD is the comparison between Jay Cutler who placed 14th behind Ronnie's #1 position. It took Jay 7 more attempts till he was able to reverse that placing with Ronnie in 2006 (attaining victory) in what was for many a controversial event.

The second part of the DVD brings you Behind the Scenes Highlights from:

*The Expo - many champions posed for us - plus interviews.
*Muscle Beach - Star Seminars, training and photos with champions such as *Gunter Schlierkamp, Lou Ferrigno, Roland Kickinger and Victor Konovalov.
*Star interviews.

Using 2 cameras, we taped over the 4 days covering all of the action, bringing you an unequalled view of what goes on at the Mr Olympia Weekend.

List of Mr Olympia pump room competitors you will see in the order in which they placed:

1 Ronnie Coleman USA
2 Flex Wheeler USA
3 Chris Cormier USA
4 Kevin Levrone USA
5 Shawn Ray USA
6 Nasser El Sonbaty Yugoslavia
7 Paul Dillett Canada
8 Lee Priest Australia
9 Dexter Jackson USA
10 Milos Sarcev Yugoslavia
11 Mike Matarazzo USA
12 Ernie Taylor England
13 Pavol Jablonicky Czech Rep.
14 Jay Cutler USA
15 Jean Pierre Fux Switzerland
Disq Markus Ruhl Germany

Other stars you will see in this video include:

Roland Kickinger solo and duo posing with Bob Delmonteque.
Dorian Yates.
Shaun Davis.
Jeff "Box" Long.
Greg Kovacs.
Ed Corney.
Dave Palumbo.
Jimmy Pellechia.
Mike Glass.
Mario Rieger.
Ernie Taylor.
Mike Horn.
David Hughes.
Chris Cormier.
Frank Sepe.
Aaron Maddron.
Bill Kazmaier.
Mario Mendoza.
Magic Johnson.
Delano Dixon.
Flavio Baccianini.
Eddie Robinson.
Tito Raymond.
Lee Labrada.
Betty Weider.

Running time: 108 mins

* Available in NTSC DVD Only (Region Free)
* THIS DVD WILL PLAY ON ANY DUAL SYSTEM NTSC / PAL DVD PLAYER AND TV.