Details: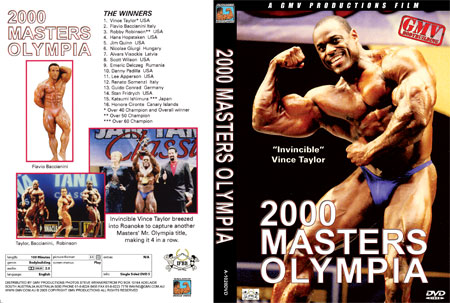 2000 Masters' Olympia

Invincible Vince Taylor breezed into Roanoke to capture another Masters' Mr. Olympia title, making it 4 in a row.
THE WINNERS
1. Vince Taylor* USA
2. Flavio Baccianini Italy
3. Robby Robinson** USA
4. Hans Hopstaken USA
5. Jim Quinn USA
6. Nicolae Giurgi Hungary
7. Aivars Visockis Latvia
8. Scott Wilson USA
9. Emeric Delczeg Rumania
10. Danny Padilla USA
11. Lee Apperson USA
12. Renato Somenzi Italy
13. Guido Conrad Germany
14. Stan Fridrych USA
15. Katsumi Ishimura *** Japan
16. Honore Cironte Canary Islands
* Over 40 Champion and Overall winner
** Over 50 Champion
*** Over 60 Champion
The DVD includes the show from the prestigious event, plus posing by all competitors, posedowns and awards.
Plus highlights from the 2000 NPC Men's Amateur Competition Winner: Mike Valentino.

Running time: 100 mins

* Available in NTSC DVD Only (Region Free)
* THIS DVD WILL PLAY ON ANY DUAL SYSTEM NTSC / PAL DVD PLAYER AND TV.