Details: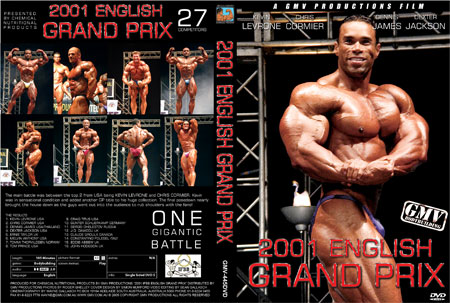 2001 IFBB English Grand Prix

IT WAS ONE GIGANTIC BATTLE!!!

The main battle was between the top 2 from USA being KEVIN LEVRONE and CHRIS CORMIER with stiff opposition from Dennis, Dexter, Ernie and Melvin. Kevin was in sensational condition and added another GP title to his huge collection. The final posedown nearly brought the house down as the guys went out into the audience to rub shoulders with the fans! See the complete event from comparisons to posedown to awards with full posing routines from the top 15 plus shortened posing routines from the remaining competitors.

This was the first time we had seen Tom Prince and he retired not too long after this event. It was also the one of the earliest times we had seen Gustavo Badell and Mustafa Mohammad as professionals. They placed 3rd and 10th respectively in the 2005 Mr Olympia.

Results:

1. Kevin Levrone, USA
2. Chris Cormier, USA
3. Dennis James, USA/Thailand
4. Dexter Jackson, USA
5. Ernie Taylor, UK
6. Melvin Anthony, USA
7. Tommi Thorvildsen, Norway
8. Tom Prince, USA
9. Craig Titus, USA
10. Gunter Schlierkamp, Germany
11. Sergei Chelestov, Russia
12. J. D. Dawodu, UK
13. Claude Groulx, Canada
14. Constantino Polesel, Italy
15. Eddie Abbew, UK
16. John Hodgson, UK

Other competitors were:
Gianluca Daniele, Jason Carter, Alison Maria, Erwin Marquez, Mark Harris, Aivars Visockis, Gustavo Badell, Jenz Kunzler, Dennis Francis, Mustafa Mohammad, Alex Georijev.

**Key comparisons **posedowns ** awards
**full posing routines from top 15 plus shortened routines from non-placegetters.



Running Time: 95 mins

* Available in NTSC DVD Only (Region Free)
* THIS DVD WILL PLAY ON ANY DUAL SYSTEM NTSC / PAL DVD PLAYER AND TV. Or any PC DVD.