Details: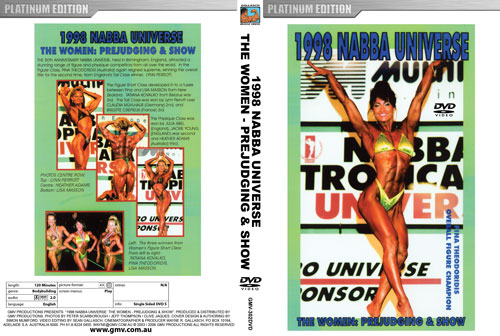 1998 NABBA Universe (50th Year): The Women - Prejudging And Show

The Women: Prejudging and Show DVD includes the posing routines of all the competitors, key prejudging comparisons, plus the posedowns and awards. This was the 50th Anniversary of the NABBA Universe.
What a Contest it was! What a piece of Fantastic History! 4 Great Legends presented on stage - Reeves, Pearl, Park and Hargitay. Plus the 50th Anniversary dinner with the Legends - please click here to see all the information on GMV-294.
1998 had it all, with the biggest crowd yet seen at the wonderful ICC in Birmingham! GMV Productions was there to capture all the excitement and action with our 2 camera team.
The Women's Pump Room is an absolute highlight for backstage feminine muscle action. See GMV-303 for all the details - click here.
See the sensational Wonder from Down Under Pina Theodoridis winning her second overall Figure Class title from UK's Lynn Perrott. Julia Abel of UK edged out Jackie Young of UK and Australia's Heather Adams to win the Women's Physique crown.
Pina Theodoridis (Australia) Miss Universe Overall Figure Winner.
Julia Abel (UK) Miss Universe Physique Class.
The complete results:
Miss Figure Class 1:
1. Lynn Perrott
2. Claudia Muhlhaus
3. Brigitte Crepieux
4. Simone Moura
5. Gaylene Richards
6. Imi Perez
Miss Figure Class 2:
1. Pina Theodoridis
2. Lisa Masson
3. Tatiana Kovalko
4. Duani Martinez
5. Terri Roberts
6. Maribel Montalvo
Miss Physique:

1. Julia Abel
2. Jacki Young
3. Heather Adams
4. Vera Bendel
5. Gil Feathers
6. Anja Timmer

Running time: 125 mins

* Available in NTSC DVD Only (Region Free)
* THIS DVD WILL PLAY ON ANY DUAL SYSTEM NTSC / PAL DVD PLAYER AND TV.