Details: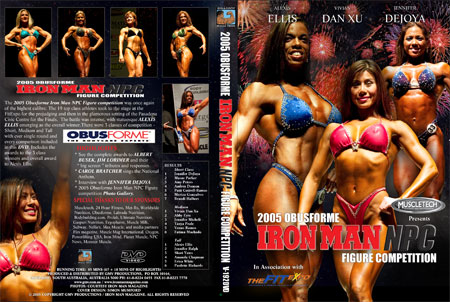 2005 Obusforme Iron Man NPC Figure Competition

The 2005 Obusforme Iron Man NPC Figure competition was once again of the highest calibre.

The 19 top class athletes took to the stage at the FitExpo for the prejudging and then in the glamorous setting of the Pasadena Civic Centre for the Finals.

The battle was intense, with statuesque ALEXIS ELLIS emerging as the overall winner.

There were 3 classes of competition - Short, Medium and Tall with ever single round and every comparison included in this DVD.
Includes the awards to the 3 class winners and overall award to Alexis Ellis.

Special Features:

* See the complete awards to
ALBERT BUSEK, JIM LORIMER and their
" big screen " tributes and responses.

* CAROL BRATCHER sings the
National Anthem.

* Interview with JENNIFER DEJOYA

* 2005 Obusforme Iron Man NPC Figure
competition Photo Gallery.

2005 Obusforme Iron Man NPC Figure Results:

Short Class

1
Jennifer DeJoya

2
Masae Parker

3
Amy Peters

4
Andrea Dumon

5
Patti Cottrell-Ramos

6
Meriza Goncalves

7
Brandi Halbert

Medium

1
Vivian Dan Xu

2
Abby Eyre

3
Jennifer Micheli

4
Tanya Peale

5
Venus Ramos

6
Fatima Machado

Tall

1
Alexis Ellis

2
Jennifer Ralph

3
Shari Yates

4
Amanda Chapman

5
Erica White

6
Paulette Richards

Running time: 85 mins

* Available in NTSC DVD Only (Region Free)
* THIS DVD WILL PLAY ON ANY DUAL SYSTEM NTSC / PAL DVD PLAYER AND TV. Or any PC DVD.