Details: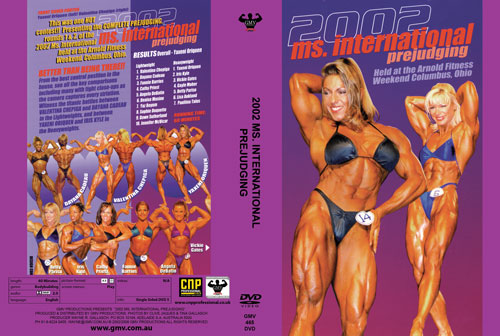 2002 MS. INTERNATIONAL: PREJUDGING
This DVD contains the COMPLETE PREJUDGING, rounds one and two, of the 2002 Ms. International, held at the Arnold Fitness Weekend, Columbus, Ohio. Viewing this presentation will put you in a front row seat which is certainly better than being there!
From the best central position in the house, see all the key comparisons including many with tight close-ups as the camera captures every sinew and striation. Witness the titanic battles between VALENTINA CHEPIGA and DAYANA CADEAU in the Lightweights, and between YAXENI ORIQUEN and IRIS KYLE in the Heavyweights. Valentina, Yaxeni and Iris are all Ms Olympia champions with many Olympia titles between them.

Yaxeni holds the record as at 2008 with 4 Ms. International victories including the 2008 title. The 2008 DVD will be ready shortly and will be linked from this page in due course.

RESULTS:

Overall WINNER - Yaxeni Oriquen
Lightweight
1. Valentina Chepiga
2. Dayana Cadeau
3. Fannie Barrios
4. Cathy Priest
5. Angela Debatin
6. Denise Masino
7. Yaz Boyum
8. Sophie Duquette
9. Dawn Sutherland
10. Jennifer McVicar
Heavyweight
1. Yaxeni Oriquen
2. Iris Kyle
3. Vickie Gates
4. Gayle Moher
5. Betty Pariso
6. Lisa Aukland
7. Pauliina Talus

Running time: 60 mins

* Available in NTSC DVD Only (Region Free)
* THIS DVD WILL PLAY ON ANY DUAL SYSTEM NTSC / PAL DVD PLAYER AND TV. Or any PC DVD.