Details: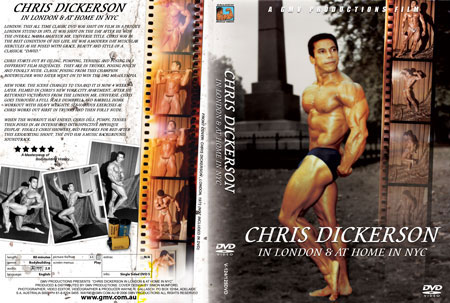 Chris Dickerson in London and at home in NYC
LONDON
This all time classic DVD was shot on film in a private London studio in 1973. It was shot on the day after he won the overall NABBA Amateur Mr. Universe title. Chris was in the best condition of his life. He was a modern day muscular Hercules as he posed with grace, beauty and style of a classical "David."
Chris starts out by oiling, pumping, tensing and posing in 3 different film sequences. They are in trunks, posing pouch. Classic posing from this champion bodybuilder who later went on to win the 1982 Mr. Olympia.
NEW YORK
The scene changes to USA and it is now 4 weeks later. Filmed in Chris's New York City apartment, after he returned victorious from the London Mr. Universe. Chris goes through a full scale dumbbell and barbell home workout with heavy weights. See various exercises as Chris works out first in trunks.
When the workout had ended, Chris oils, pumps, tenses then poses in an intense and introspective physique display. Finally Chris showers and prepares for bed after this exhausting shoot. The DVD has a music background soundtrack.



Running time: 80 mins

* Available in NTSC DVD Only (Region Free)
* THIS DVD WILL PLAY ON ANY DUAL SYSTEM NTSC / PAL DVD PLAYER AND TV. Or any PC DVD.