Details: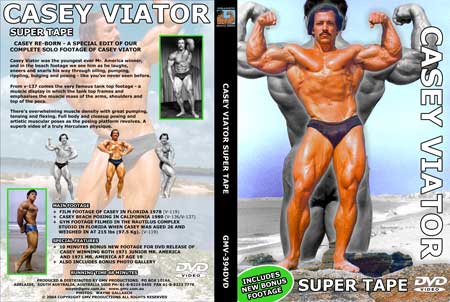 Casey Viator Super Tape DVD

Casey Viator was the youngest ever Mr. America winner, and in the beach footage we see him as he laughs, sneers and snarls his way through oiling, pumping, rippling, bulging and posing - like you've never seen before.

From PCB-137 comes the very famous tank top footage - a muscle display in which the tank top frames and emphasises the muscle mass of the arms, shoulders and top of the pecs.

There's overwhelming muscle density with great pumping, tensing and flexing. Full body and closeup posing and artistic muscular poses as the posing platform revolves. A superb video of a truly Herculean physique, now on DVD.

* FILM FOOTAGE OF CASEY IN FLORIDA 1978 (PCB-119) 9 mins
* CASEY BEACH POSING IN CALIFORNIA 1980 (PCB-136/PCB-137) 40 mins
* GYM FOOTAGE FILMED IN THE NAUTILUS COMPLEX STUDIO IN FLORIDA WHEN CASEY WAS AGED 26 AND
WEIGHED IN AT 215 lbs (97.5 Kg). (PCB-119) 9 mins
* 10 MINUTES BONUS NEW FOOTAGE FOR DVD RELEASE OF CASEY WINNING BOTH 1971 JUNIOR MR. AMERICA
AND 1971 MR. AMERICA AT AGE 19
* ALSO INCLUDES BONUS PHOTO GALLERY OF WAYNE'S GREAT PHOTOS. SEE A FEW SAMPLES BELOW.



Running Time: 75 mins

* Available in NTSC DVD Only (Region Free)
* THIS DVD WILL PLAY ON ANY DUAL SYSTEM NTSC / PAL DVD PLAYER AND TV. Or any PC DVD.