Details: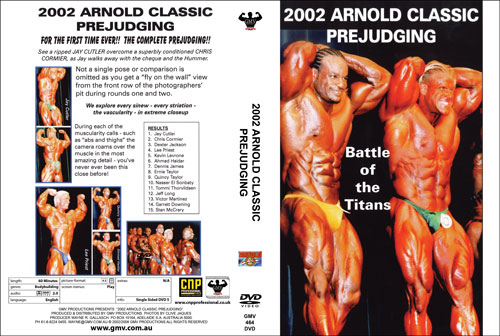 2002 ARNOLD CLASSIC - PREJUDGING
FOR THE FIRST TIME EVER!! THE COMPLETE PREJUDGING FROM THE ARNOLD CLASSIC!!
See a ripped JAY CUTLER overcome a superbly conditioned CHRIS CORMIER, as Jay walks away with the cheque and the Hummer.
Not a single pose or comparison is omitted as you get a "fly on the wall" view from the CENTRE of front row of the photographers' pit during rounds one and two of the prejudging. We explore every sinew - every striation - the vascularity - in extreme closeup.
During each of the muscularity callouts - such as "abs and thighs", the camera roams over the muscle in the most amazing detail - you've never ever been this close before! This is the only front-on view of these men as we had to shoot the evening FINALS from the rear of the stage, giving a reverse angle view.

COMPLETE RESULTS:
1. Jay Cutler
2. Chris Cormier
3. Dexter Jackson
4. Lee Priest
5. Kevin Levrone
6. Ahmad Haidar
7. Dennis James
8. Ernie Taylor
9. Quincy Taylor
10. Nasser El Sonbaty
11. Tommi Thorvildsen
12. Jeff Long
13. Victor Martinez
14. Garrett Downing
Running time: 60 mins

* Available in NTSC DVD Only (Region Free)
* THIS DVD WILL PLAY ON ANY DUAL SYSTEM NTSC / PAL DVD PLAYER AND TV. Or any PC DVD.