Details: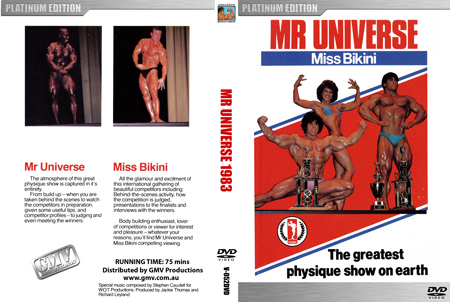 1983 Mr. and Miss NABBA UNIVERSE - Platinum Edition

The NABBA Universe was known as the greatest physique show on earth. Along with the Mr. Universe was the Miss Bikini Universe as the women's class was called back then. It was really the figure class of today.

Mr Universe
The atmosphere and excitement of this great physique show at Wembley, England is captured in it's entirety. See USA's Mr. America winner JEFF KING as he overcomes the major challenge from JOHN BROWN in his class and goes on to win the overall title against class winners VINCE BROWN and TERRY PHILLIPS.

From build up - when you are taken behind the scenes to watch the competitors in preparation, to some useful tips, and competitor profiles - to prejudging and meeting the winners.

See the late ED KAWAK as he defeats Scotland's IAN LAWRENCE and USA's RUFUS HOWARD after a titanic battle in the Pro division.

Miss Bikini Universe
All the glamour and excitement of this international gathering of beautiful figure type competitors including:

Behind-the-scenes activity, how the competition is judged, presentations to the finalists and interviews with the winners. MARY SCOTT of Scotland was a narrow winner over Australia's BETH LOPEZ.

For all bodybuilding enthusiasts, lovers of competitions or current competitors, you'll find the classic 1983 Mr Universe and Miss Bikini contest compelling viewing.

This is not a complete record of every single competitor but rather the major competitors who are shown.

Major winners were:

JEFF KING - Overall Amateur Mr. Universe winner
EDWARD KAWAK - Pro Mr. Universe winner
MARY SCOTT - Miss Bikini Universe winner

Running time: 75 mins

* Available in NTSC DVD Only (Region Free)
* THIS DVD WILL PLAY ON ANY DUAL SYSTEM NTSC / PAL DVD PLAYER AND TV. Or any PC DVD.