Details: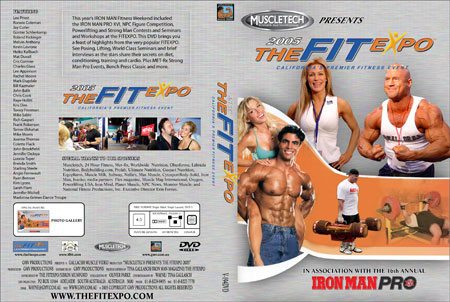 2005 The FitExpo - California's Premier Fitness Event
This year's IRON MAN Fitness Weekend included the IRON MAN PRO XVI, NPC Figure Competition, Powerlifting and Strong Man Contests and Seminars and Workshops at the FITEXPO. This DVD brings you a feast of highlights from the very popular FITEXPO.

See Posing, Lifting, World Class Seminars and brief interviews as the stars share their secrets on diet, conditioning, training and cardio.
Plus MET-Rx Strong Man Pro Events, Bench Press Classic and more.

Special Features:
Photo Gallery

You will see :

Lee Priest
Ronnie Coleman
Jay Cutler
Gunter Schlierkamp
Roland Kickinger
Melvin Anthony
Kevin Levrone
Heiko Kallbach
Mat Duvall
Chris Cormier
Charles Glass
Lee Apperson
Rachel Moore
Mark Dugdale
Bill Kazmaier
John Balik
Chris Cook
Raye Hollitt
Kris Dim
Toney Freeman
Mike Sable
Rich Gaspari
Frank Roberson
Tamer Elshahat
Mike Morris
Joanna Thomas
Colette Flack
John Brookfield
Jennifer DeJoya
Lonnie Teper
Brenda Smith
Starling Steele
Angie Fernwault
Ryan Benson
Kim Lyons
Sarah Flom
Jennifer Micheli
Madonna Grimes Dance Troupe

Running time: 109 mins

* Available in NTSC DVD Only (Region Free)
* THIS DVD WILL PLAY ON ANY DUAL SYSTEM NTSC / PAL DVD PLAYER AND TV. Or any PC DVD.