Details: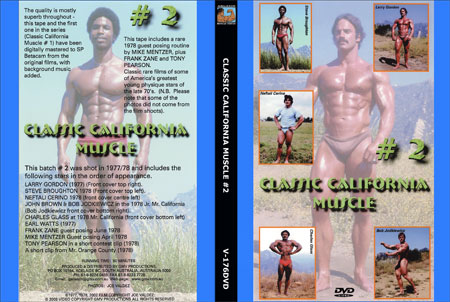 Classic California Muscle # 2

The quality is mostly superb throughout - this tape and the first one in the series (Classic California Muscle # 1) have been digitally mastered to SP Betacam from the original films, with background music added.
This tape includes a rare 1978 guest posing routine by MIKE MENTZER, plus FRANK ZANE and TONY PEARSON. Classic rare films of some of America's greatest young physique stars of the late 70's. (N.B. Please note that some of the photos did not come from the film shoots).
This batch # 2 was shot in 1977/78 and includes the following stars in the order of appearance.

LARRY GORDON (1977) (Front cover top right).
STEVE BROUGHTON 1978 (Front cover top left).
NEFTALI CERINO 1978 (front cover centre left)
JOHN BROWN & BOB JODKIEWICZ in the 1978 Jr. Mr. California (Bob Jodkiewicz front cover bottom right).
CHARLES GLASS at 1978 Mr. California (front cover bottom left)
EARL WATTS (1977)
FRANK ZANE guest posing June 1978
MIKE MENTZER Guest posing April 1978
TONY PEARSON in a short contest clip (1978)
A short clip from Mr. Orange County (1978)

Running time: 50 mins

* Available in NTSC DVD Only (Region Free)
* THIS DVD WILL PLAY ON ANY DUAL SYSTEM NTSC / PAL DVD PLAYER AND TV. Or any PC DVD.