Details: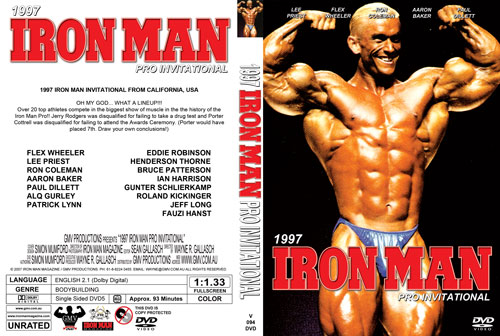 1997 Iron Man Pro Invitational.

Oh my God - what a lineup!

Over 20 top athletes compete in the biggest show of muscle in this history of the IM Pro!.
The RESULTS in order:

1 Flex Wheeler USA
2 Lee Priest Australia
3 Ronnie Coleman USA
4 Aaron Baker USA
5 Paul Dillett USA
6 Patrick Lynn USA
7 Eddie Robinson USA
8 Henderson Thorne Canada
9 Bruce Patterson Canada
10 Ian Harrison England
11 Roland Kickinger Austria
12 Jeffrey Long USA
13 Fauzi Hanst Carribean
14 Alessandro Komadina Italy
15 J.P. Pulkkinen Finland
16 Mohamed El Makkawy Egypt
16 Joe Spinello Canada
Dis-6th Alq Gurley USA
Dis-12th Gunter Schlierkamp Germany
Dis-16 Max Shamaya Israel
Dis-16 B.J. Johns New Zealand
Dis Jerry Rodgers USA
Dis Porter Cottrell USA
The Redondo Beach Performing Arts Center, Aviation Auditorium, on the corner of Aviation Blvd, and Manhattan Beach Blvd, was the site for the 1997 IFBB Ironman Pro Invitational. This was the 8th year for this event, and by far, the largest collection of athletes to battle it out for the championship. Twenty three athletes, from all over the world, were here in the first IFBB pro show of the year.

Pre-judging started at 12 o clock, but by 11, there were already 300 or so fans outside the doors waiting to get in. Backstage, there was nervousness, and intense concentration by the athletes, as they prepared themselves for the event.
During pre-judging, there were four parts. The first part introduced all of the athletes, half of them lining up first, and second half a couple of minutes later. The second part consisted of the first call outs, in which the judges compared athletes to each other, three at a time.
The third part consisted of each athlete come on stage and go through a routine, consisting of 7 poses. There were, in order, Front Double Bicep, Front Lat Spread, Side Chest, Rear Double Bicep, Rear Lat Spread, Side Tricep, and Abdominals & Thighs.
The fourth part brought out the final call outs of the pre-judging. This is where you could really see the differences between the top stars, and judge on who will win based on symmetry, muscle, and overall appearance. The call-outs were as follows, in order, three athletes being compared at a time.
Lee Priest - Flex Wheeler - Ron Coleman
Lee Priest - Aaron Baker - Ron Coleman
Paul Dillett - Aaron Baker - Flex Wheeler
Paul Dillett - Ron Coleman - Lee Priest
Ian Harrison - Bruce Patterson - Eddie Robinson
Henderson Thorne - Bruce Patterson - Patrick Lynn
Alq Gurley - Porter Cottrell - Patrick Lynn
Alq Gurley - Jeffrey Long - Patrick Lynn
Gunter Schlierkamp - Jeffrey Long - Roland Kickinger
Afterwards, the pre-judging came to an end, and the audience went home or to lunch to await the evening show. Backstage, the athletes were being tested for diuretics, which took over an hour and a half to get all of the athletes done, as paperwork and accuracy had to be done. Fortunately for the competitors, press, and backstage personnel, the only drinks that the Ironman show had was water and American Body Building's Ripped Force, Cutting Force, Carbo Light and Amino Powers. Quality above all!
The evening show started at 8 pm. There was a crowd of over 1,500 people on hand, including such notables like Chris Cormier, Shawn Ray, Mike Christian, Vince Gironda, Michio Grubbs, Craig Titus, Garret Downing, Mike Matarrazzo, and Jeff Poulin. The emcee even went as far as predicting that Chris Cormier will win the IFBB Night of Champions event in New York in May.
The evening presentations went as follows. The first part was introduction of all 23 competitors, second part was the routines of the athletes, complete with music and theatrics, and the final part was the selection of the top 10, narrowing down to the winner.
Porter Cottrell was disqualified for failure to appear at award presentation, which he would of placed tenth, while Jerry Rodger was disqualified for failure to take the drug test, According to Porter, he did not hear to judge announced his name and went to the dressing room to change. Four athletes were disqualified for testing positive in the drug test. They were Alq Gurley, B.J. Johns, Gunter Schlierkamp, and Max Shamaya.

It was a hard fought battle, and the only major audience clashing with the judges was that Aaron Baker should of placed third instead of fourth over Ronnie Coleman. The biggest suspense of the night was the final moment between Lee Priest and Flex Wheeler. Would Wheeler win the third Ironman in a row or lose to a 217 pound 5 foot 3 inch, completely muscular Lee Priest? We now know the answer!
This contest was tested for diuretics, clenbuterol and cocaine. Four athletes came out positive. They were Alq Gurley, B.J. Johns, Gunter Schlierkamp, and Max Shamaya.
Special mentions (opinions by Ron Avidan) goes out to these athletes:
Nicest Competitor went to Flex Wheeler, for bowing to the audience each time as he finished posing in all rounds.
Nicest Backstage Competitor went to Roland Kickinger, for being gracious and kind to everyone, even under pressure.
Best Routine went to D.J. Johns from New Zealand, whose routine had the audience captivated and received the biggest applause. Eddie Robinson also gets a mention here for an innovative routine.
Best Music went to Porter Cottrell, for his specially made music about his lifestyle as a fireman, including a line mentioning 'Hey Porter, where's the fire'. Music from the movie 'The Rock' gets special mention for it was used more than once.
Most interesting posing suit goes to Aaron Baker, for pulling his suit as high as he could, thus so the audience can see his glutes more than they should.
Most inspirational went to Mohammed El Makkaway, who has not competed in 12 years, and was celebrating his 22nd wedding anniversary that night.
Most Flexible: went to Patrick Lynn, and Flex Wheeler, for doing the splits on stage, evoking oohs and ouches from the audience.
Report courtesy of Ron Avidan, getbig.com Thanks Ron for a wonderful summary of this show.

Running time: 93 mins

* Available in NTSC DVD Only (Region Free)
* THIS DVD WILL PLAY ON ANY DUAL SYSTEM NTSC / PAL DVD PLAYER AND TV. Or any PC DVD.