Details: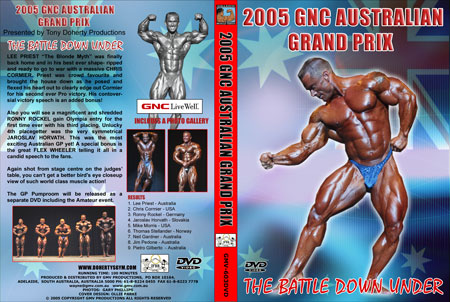 2005 GNC Australian Grand Prix - The Battle Down Under

LEE PRIEST "The Blonde Myth" was finally back home and in his best ever shape- ripped and ready to go to war with a massive CHRIS CORMIER. Priest was crowd favourite and brought the house down as he posed and flexed his heart out to clearly edge out Cormier for his second ever Pro victory. His contoversial victory speech is an added bonus!
Also you will see a magnificent and shredded RONNY ROCKEL gain Olympia entry for the first time ever with his third placing. Unlucky 4th placegetter was the very symmetrical JAROSLAV HORVATH. This was the most exciting Australian GP yet! A special bonus is the great FLEX WHEELER telling it all in a candid speech to the fans.
Again shot from stage centre on the judges' table, you can't get a better bird's eye closeup view of such world class muscle action!
RESULTS:

1. Lee Priest - Australia
2. Chris Cormier - USA
3. Ronny Rockel - Germany
4. Jaroslav Horvath - Slovakia
5. Mike Morris - USA
6. Thomas Stellander - Norway
7. Neil Gardner - Australia
8. Jim Pedone - Australia
9. Pietro Gilberto - Australia

Running time: 100 mins

* Available in NTSC DVD Only (Region Free)
* THIS DVD WILL PLAY ON ANY DUAL SYSTEM NTSC / PAL DVD PLAYER AND TV. Or any PC DVD.