Details: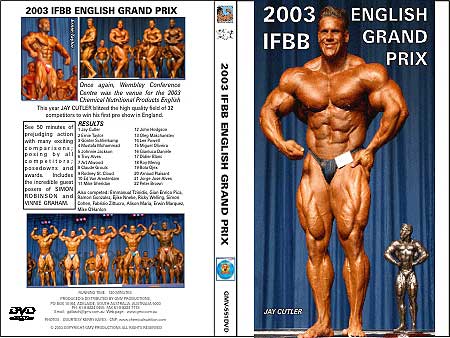 2003 IFBB English Grand Prix DVD
Once again, Wembley Conference Centre was the venue for the 2003 Chemical Nutritional Products English Grand Prix.
This year JAY CUTLER blitzed the high quality field of 32 competitors to win his first pro show in England. This was the biggest and best lineup ever seen in the English Grand Prix!
Extensive and wonderful photo gallery included. Some of the best photos of a contest you'll ever see.
See 50 minutes of prejudging action with many exciting comparisons; posing by all competitors; posedowns and awards. Includes the incredible guest posers of SIMON ROBINSON and VINNIE GRAHAM.
2003 IFBB English Grand Prix

1 Jay Cutler
2 Ernie Taylor
3 Günter Schlierkamp
4 Mustafa Mohammad
5 Johnnie Jackson
6 Troy Alves
7 Art Atwood
8 Claude Groulx
9 Rodney St. Cloud
10 Ed Van Amsterdam
11 Mike Sheridan
12 John Hodgson
13 Oleg Makchanstev
14 Lee Powell
15 Miguel Oliveira
16 Gianluca Daniele
17 Didier Blanc
18 Roy Menig
19 Bola Ojex
20 Anaud Plaisant
21 Jorge Jose Alves
22 Peter Brown

Also competed:
Emmanual Tzinidis
Gian Enrico Pica
Ramon Gonzalez
Ejike Nneke
Ricky Welling
Simon Cohen
Fabrizio Zittucro
Alison Maria
Erwin Marquez
Mike O'Hanlon

Amateur Grand Prix
1 Bola Ojex - Winner who qualified for the Pro GP

Running time: 120 mins

* Available in NTSC DVD Only (Region Free)
* THIS DVD WILL PLAY ON ANY DUAL SYSTEM NTSC / PAL DVD PLAYER AND TV. Or any PC DVD.