Details: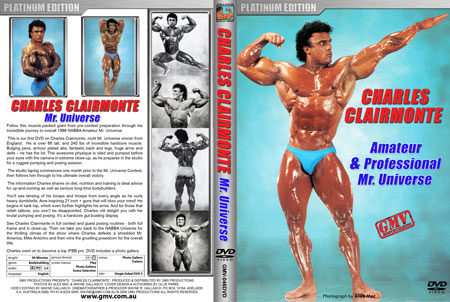 Charles Clairmonte – Amateur and Professional Mr. Universe

Follow this muscle-packed giant from pre-contest preparation through his incredible journey to overall 1986 NABBA Amateur Mr. Universe.
This is our first DVD on Charles Clairmonte from England. He is over 6ft tall, and 240 lbs of incredible hardcore muscle. Bulging pecs, armour plated abs, fantastic back and legs, huge arms and delts – he has the lot. See his awesome physique oiled and pumped before your eyes with the camera in extreme close-up mode, as he prepares in the studio for a rugged pumping and posing session.
The studio taping commences one month prior to the Mr. Universe Contest, then follows him through to his ultimate overall victory in the amateur section.
Throughout the video we hear excerpts from Charles' interview by Clive Jaques. The information he shares on diet, nutrition and training is ideal advice for up-and-coming as well as serious long-time bodybuilders.
You'll see tensing of his biceps and triceps from every angle as he curls heavy dumbbells. Awe-inspiring 21 inch+ guns that will blow your mind! He begins in tank top, which even further highlights his arms. And for those that relish tattoos, you won't be disappointed. Charles will delight you with his brutal pumping and posing. It's a hardcore gut-busting display.
Charles was destined to be a top Professional, firstly with NABBA and then the IFBB. See Charles Clairmonte in full contest and guest posing routines - both full frame and in close-up. Then we take you back to the 1986 NABBA Universe for the thrilling climax of the show. See Charles defeat a shredded Mr. America, Mike Antorino and then win the gruelling posedown for the overall title. Note: After a brilliant career with NABBA winning 4 Mr Universe titles and a Pro Mr World, Charles later went on to become a top IFBB professional.
Running time: 60 mins

* Available in NTSC DVD Only (Region Free)
* THIS DVD WILL PLAY ON ANY DUAL SYSTEM NTSC / PAL DVD PLAYER AND TV. Or any PC DVD.