Details: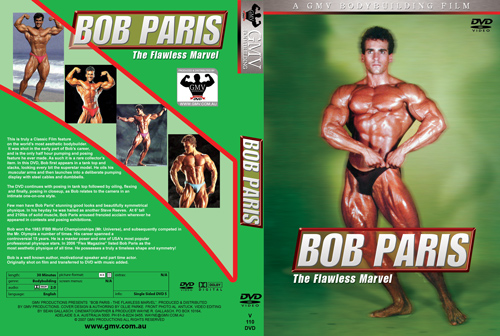 Bob Paris the Flawless Marvel

This is truly a Classic Film feature on the world's most aesthetic bodybuilder. It was shot in the early part of Bob's career, and is the only half hour pumping and posing feature he ever made. As such it is a rare collector's item. In this DVD, Bob first appears in a tank top and slacks, looking every bit the superstar model. He oils his muscular arms and then launches into a deliberate pumping display with steel cables and dumbbells.
The DVD continues with posing in tank top followed by oiling, flexing and finally, posing in closeup, as Bob relates to the camera in an intimate one-on-one style. There is a lingering examination of Bob's muscular body in closeup, as he presents each muscle group in a fluid, graceful, near erotic style.
Few men have Bob Paris' stunning good looks and beautifully symmetrical physique. In his heyday he was hailed as another Steve Reeves. At 6' tall and 210lbs of solid muscle, Bob Paris aroused frenzied acclaim wherever he appeared in contests and posing exhibitions.
The technical quality of this original film was not as sharp as more recent video presentations as it belongs to the technology of the time. However it is a rare collector's item.

Bob won the 1983 IFBB World Championships (Mr. Universe), and subsequently competed in the Mr. Olympia a number of times. His career spanned a controversial 15 years. He is a master poser and one of USA's most popular professional physique stars.

In 2006 "Flex Magazine" listed Bob Paris as the most aesthetic physique of all time. He possesses a truly a timeless shape and symmetry!
Today Bob is a well known author, motivational speaker and part time actor.
Originally shot on film and transferred to DVD with music added.

Running Time: 35 mins

* Available in NTSC DVD Only (Region Free)
* THIS DVD WILL PLAY ON ANY DUAL SYSTEM NTSC / PAL DVD PLAYER AND TV. Or any PC DVD.