Details: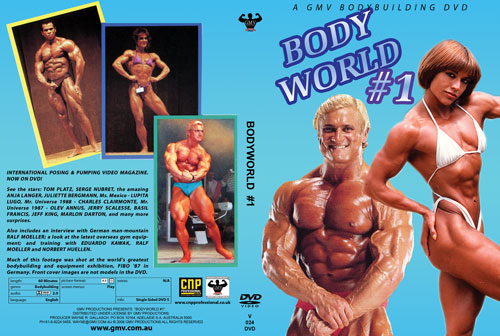 BODYWORLD #1 - THE BEST POSER
INTERNATIONAL POSING & PUMPING VIDEO MAGAZINE. NOW ON DVD!

See the stars: TOM PLATZ, SERGE NUBRET, the amazing ANJA LANGER, JULIETTE BERGMANN, Ms. Mexico - LUPITA LUGO, Mr. Universe 1988 - CHARLES CLAIRMONTE, Mr. Universe 1987 - OLEV ANNUS, JERRY SCALESSE, BASIL FRANCIS, JEFF KING, MARLON DARTON, and many more surprises.

Also includes an interview with German man-mountain RALF MOELLER; a look at the latest overseas gym equipment; and training with EDUARDO KAWAK, RALF MOELLER and NORBERT HUELLEN.

Much of this footage was shot at the world's greatest bodybuilding and equipment exhibition, FIBO '87 in Germany. Front cover images are not models in the DVD.

Running time: 60 mins

* Available in NTSC DVD Only (Region Free)
* THIS DVD WILL PLAY ON ANY DUAL SYSTEM NTSC / PAL DVD PLAYER AND TV. Or any PC DVD.