Details: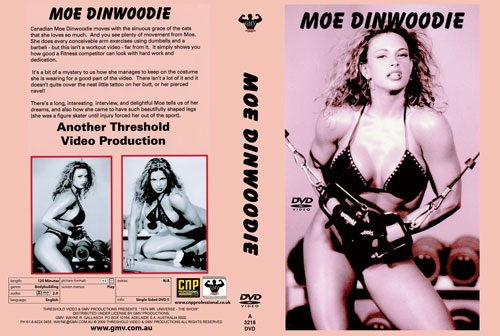 Moe Dinwoodie - Workout, Pumping & Posing

Canadian Moe Dinwoodie moves with the sinuous grace of the cats she loves so much. And you see plenty of movement from Moe. She does every conceivable arm exercise using dumbells and a barbell - but this isn't a workout video - far from it. It simply show you how good a Fitness competitor can look with hard work and dedication. It's a bit of a mystery to us how she manages to keep on the costume she is wearing for a good part of the video. There isn't a lot of it and it doesn't quite cover the neat little tattoo on her butt, or her pierced navel! There's a long interesting interview, and delightful Moe tells us of her dreams, and also how she came to have such beautifully shaped legs (she was a figure skater until injury forced her out of the sport).

This video is HOT! HOT! HOT!

DVD PACKING
All our Videos are sent in the plain white padded bags marked as GIFT. Hand addressed and with no GAMM logos or stickers on them. We always keep our packaging as low profile as possible to help ensure your privacy.



Running time: 120 mins

* Available in NTSC DVD Only (Region Free)
* THIS DVD WILL PLAY ON ANY DUAL SYSTEM NTSC / PAL DVD PLAYER AND TV. Or any PC DVD.