Details: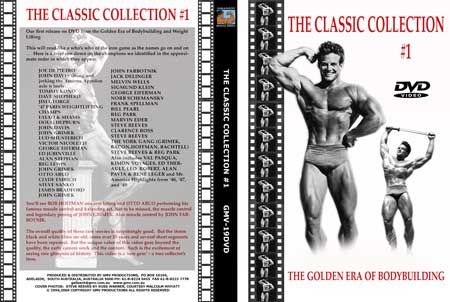 CLASSIC COLLECTION # 1

Our first release on DVD from the Golden Era of Bodybuilding and Weight Lifting.

CLASSIC COLLECTION # 1
This will read like a who's who of the iron game as the names go on and on …

Here is a brief run down on the champions we identified in the approximate order in which they appear.
JOE DE PIETRO
JOHN DAVIS lifting and jerking the
famous Appolon axle wheels
TOMMY KONO
DAVE SHEPHERD
JIM GEORGE
'47 PARIS WEIGHTLIFTING CHAMPS
FAYAD & SHAMS
DOUG HEPBURN
JOHN DAVIS
JOHN GRIMEK
LUD SHUSTERICH
VICTOR NICOLETTI
JOHN FARBOTNIK
JACK DELINGER
MELVIN WELLS
SIGMUND KLEIN
GEORGE EIFERMAN
NORB SCHEMANSKY
FRANK SPELLMAN
BILL PEARL
REG PARK
MARVIN EDER
STEVE REEVES
CLARENCE ROSS
STEVE REEVES
Running Time: 65 mins

* Available in NTSC DVD Only (Region Free)
* THIS DVD WILL PLAY ON ANY DUAL SYSTEM NTSC / PAL DVD PLAYER AND TV. Or any PC DVD.