Details: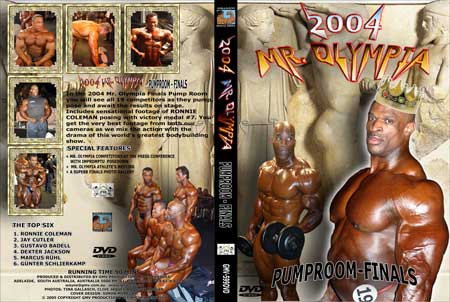 2004 Mr. Olympia - Finals Pump Room

In the 2004 Mr. Olympia Finals Pump Room you will see all 19 competitors as they pump, pose and await the results on stage.

Includes sensational footage of RONNIE COLEMAN posing with victory medal #7. You get the very best footage from both our cameras as we mix the action with the drama of this world's greatest bodybuilding show.

SPECIAL FEATURES:


MR. OLYMPIA COMPETITORS AT THE PRESS CONFERENCE WITH IMPROMPTU POSEDOWN.
MR. OLYMPIA ATHLETE'S MEETING.
A SUPERB FINALS PHOTO GALLERY

Here's a complete list of competitors:
1. Ronnie Coleman
2. Jay Cutler
3. Gustavo Badell
4. Dexter Jackson
5. Markus Ruhl
6. Gunter Schlierkamp
7. Chris Cormier
8. Dennis James
9. Victor Martinez
10. Darrem Charles
11. Pavol Jablonicky
12. Kris Dim
13. Ahmad Haidar
14. Johnnie Jackson
15. Troy Alves
16. Craig Richardson
17. Mustafa Mohammad
18. Richard Jones
19. Claude Groulx

Running time: 99 mins

* Available in NTSC DVD Only (Region Free)
* THIS DVD WILL PLAY ON ANY DUAL SYSTEM NTSC / PAL DVD PLAYER AND TV. Or any PC DVD.