Details: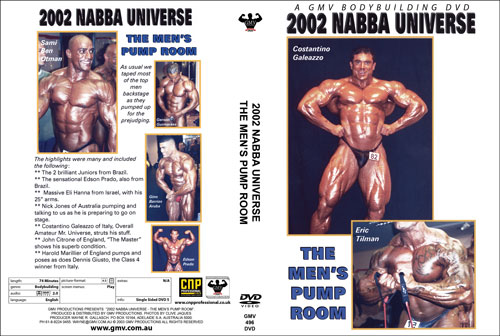 2002 NABBA UNIVERSE: THE MEN'S PUMP ROOM
As usual we taped most of the top men backstage as they pumped up for the prejudging.
The highlights were many and included the following:
** The 2 brilliant Juniors from Brazil.
** The sensational Edson Prado, also from Brazil.
** Massive Eli Hanna from Israel, with his 25" arms.
** Nick Jones of Australia pumping and talking to us as he is preparing to go on stage.
** Handsome Gino Barrios struts his stuff.
** John Citrone of England, "The Master" shows his superb condition.
** Harold Marillier of England pumps and poses as does Dennis Giusto, the Class 4 winner from Italy.
Complete men's results are listed below. You will see many of these men in this tape.
2002 NABBA UNIVERSE
MASTERS DIVISION

1 Rob Van Der Dussen Holland
2 John Citrone UK
3 Terry Fisher UK
4 João Bispo de Andrade Brazil
5 Gerard Leroy France
6 Dayo Audi UK
MASTERS OVER 50 DIVISION

1 Ian Lawrence Scotland
2 Rainer Ollgren Finland
3 Brian Balmer UK
4 George Chaumier Canada
5 Bernie Cooper UK
6 Andres Ferrero Argentina
JUNIORS

1 Eduardo Correa Brazil
2 Marius Dohne South Africa
3 Ricardo Da Costa Brazil
4 Nick Vandal UK
5 Geoff Baston UK
6 Jonathan Hughes UK
MEN'S OPEN CLASS 4 SHORT

1 Dennis Giusto Italy
2 Nick Jones Australia
3 Paul Lands Holland
4 Gilbert Feitosa Brazil
5 Paul Sutton UK
6 Darryl Aldis UK
MEN'S OPEN CLASS 3 MEDIUM SHORT

1 Edson Prado Brazil
2 Hassan Al Saka Syria
3 Jamie Manuel UK
4 Stephen Sinton UK
5 Billy Jones Wales
6 Djalma Laroque Brazil
MEN'S OPEN CLASS 2 MEDIUM TALL

1 Sergiy Dukhota Ukraine
2 Giuseppe Cozzi Italy
3 Sami Ben Otman Holland
4 Adam Ashley UK
5 Geoff Hargreaves UK
6 Gerson Guimaraes Brazil
MEN'S OPEN CLASS 1 TALL

1 Costantino Galeazzo Italy
2 Walter Lettner Austria
3 Eli Hanna Israel
4 Gino Barrios Holland
5 Harold Marillier UK
6 Andre Vander Mescht South Africa
OVERALL MEN'S AMATEUR MR. UNIVERSE
Costantino Galeazzo

PRO-AM / PROFESSIONAL MR. UNIVERSE

1 Gary Lister UK
2 Sergio Ogorodnikov Russia
3 Costantino Galeazzo Italy
4 Federico Focherini Italy
5 Steffen Müller Germany
6 Mikhail Bekoev Ukraine

Running time: 74 mins

* Available in NTSC DVD Only (Region Free)
* THIS DVD WILL PLAY ON ANY DUAL SYSTEM NTSC / PAL DVD PLAYER AND TV. Or any PC DVD.