Details: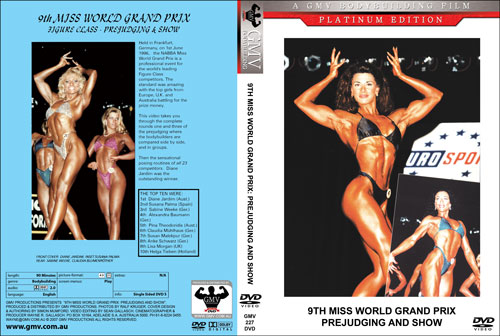 1996 9TH MISS WORLD GRAND PRIX
This amazing contest brought together the cream of NABBA's figure class competitors from Europe, U.K. and Australia. Held as part of the German NABBA National Championships in the magnificent Jahrhunderthalle in Frankfurt, 23 girls took to the stage.

Countries represented included Germany, Holland, the Czech Republic, Croatia,Spain, Switzerland, England and Australia.

It was obvious from the first call out that the Australian girls were going to do well, and it eventually became a battle between Susana Palma of Spain and Australia's Diane Jardim for the top honour. Diane was the winner of this particular battle in an extremely tough line-up. The German audience was very gracious in accepting the international lineup, and called for their favourite competitor regardless of the country of origin. There's a lesson to be learnt there.

The results were as follows:

Diane Jardim (Australia)
Susana Palma (Spain)
Sabine Weeke (Germany)
Alexandra Baumann (Germany)
Pina Theodoridis (Australia)
Claudia Mühlhaus (Germany)
Susan Malekpur (Germany)
Anke Schwarz (Germany)
Lisa Morgan (England)
Helga Tieben (Holland)

PCB-227DVD includes interviews with 6 of the top competitors and is the full contest version, showing all the round one comparisons, all round 3 compulsories and the full posing routines of all 23 fantastic competitors. The posedowns and awards are also included. This is the highest standard Women's Figure tape we have ever offered.

Running time: 90 mins

* Available in NTSC DVD Only (Region Free)
* THIS DVD WILL PLAY ON ANY DUAL SYSTEM NTSC / PAL DVD PLAYER AND TV. Or any PC DVD.