Details: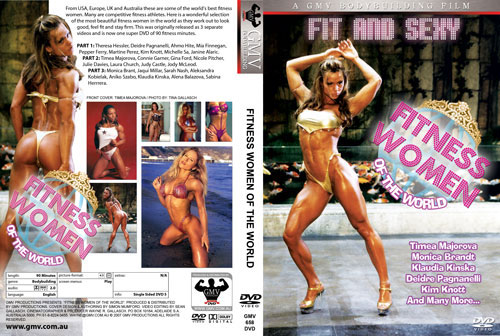 Fitness Women of the World


From USA, Europe, UK and Australia these are some of the world's best fitness women. Many are competitive fitness athletes.
Here is a wonderful selection of the most beautiful fitness women in the world as they work out to look good, feel fit and stay firm. This was originally released as 3 separate videos and is now one super DVD of 90 fitness minutes.

Main image front cover is TIMEA MAJOROVA, photo taken by Wayne Gallasch at Shark Reef at the MBH in Las Vegas.

The first part includes:

Theresa Hessler
Deidre Pagnanelli
Ahmo Hite
Mia Finnegan
Pepper Ferry
Martine Perez
Kim Knott
Michelle Sa
Janine Alaric
The second part includes:

Timea Majorova
Connie Garner
Gina Ford
Nicole Pitcher
Julie Davies
Laura Church
Judy Castle
Jody McLeod
The 3rd part includes:

Monica Brant
Jaqui Millar
Sarah Nash
Aleksandra Kobielak
Aniko Szabo
Klaudia Kinska
Alena Balazova
Sabina Herrrera



Running Time: 95 mins

* Available in NTSC DVD Only (Region Free)
* THIS DVD WILL PLAY ON ANY DUAL SYSTEM NTSC / PAL DVD PLAYER AND TV. Or any PC DVD.