Details: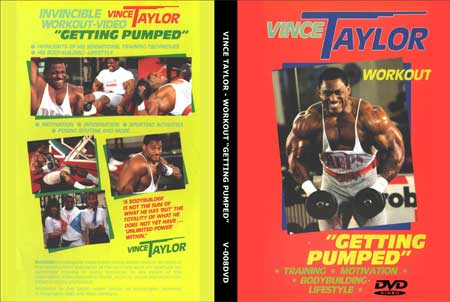 Vince Taylor Workout - Getting Pumped

Hear the invincible Vince Taylor explain his training secrets in this superb workout video "Getting Pumped". Shot in Germany some years ago, Vince is in incredible condition as ever.
Vince Taylor became one of the greatest professional bodybuilders of all time, winning more GPs than any other champion. He also won many Sandow awards as Masters Olympia winner where he was virtually unbeatable.

This video now on DVD pays tribute to Vince in his earlier years.

* Motivation
* Information
* Interview
* Posing Routine
* Bodybuilding Lifestyle
* Entertainment
* An Olympian's Sensational Training Technique

Vince has won the Masters Olympia 5 times and has won more pro contests than any other bodybuilder. He is recognized as one of the world's all time greatest posers.

Vince recently placed 3rd in the 2006 Australia Grand Prix, gaining qualification to the 2006 Olympia. He will also be competing in the 2006 Night of Champions in NY on September 16th.


Running time: 60 mins
* Available in NTSC DVD Only (Region Free

)
* THIS DVD WILL PLAY ON ANY DUAL SYSTEM NTSC / PAL DVD PLAYER AND TV. Or any PC DVD.