Details: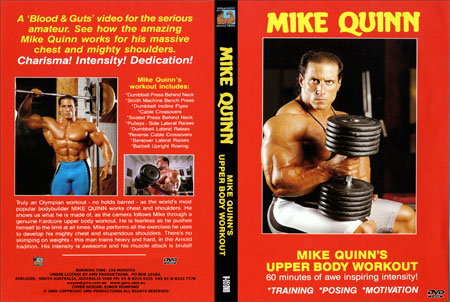 Mike Quinn - Upper Body Workout

A TRUE BLAST FROM THE PAST!!

A " Blood and Guts " video for the serious amateur. See how the amazing Mike Quinn works for his massive chest and mighty shoulders.

Charisma ! Intensity ! Dedication !

Truly an Olympian workout - no holds barred - as the world's most popular bodybuilder Mike Quinn works chest and shoulders.

He shows us what he is made of. Watch as the camera follows Mike through a genuine hardcore upper body workout.

He is fearless as he pushes himself to the limit at all times. Mike performs all the excercises he uses to develope his mighty chest and stupendous shoulders. There's no skimping on weights - this man trains heavy and hard. In the Arnold tradition. His intensity is awesome
and his muscle attack is brutal.

Running time: 61 mins

* Available in NTSC DVD Only (Region Free)
* THIS DVD WILL PLAY ON ANY DUAL SYSTEM NTSC / PAL DVD PLAYER AND TV. Or any PC DVD.