Details: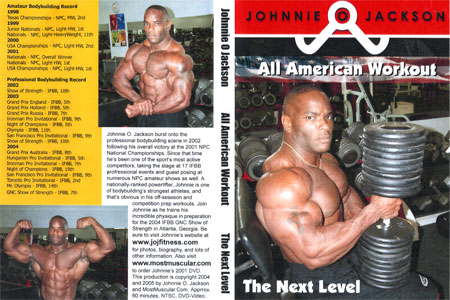 Johnnie Jackson - All American Workout "The Next Level"

Johnnie O. Jackson burst onto the professional bodybuilding scene in 2002 following his overall victory at the 2001 NPC National Championships. Since that time, he's been one of the sport's most active competitors, taking the stage at 17 IFBB professional events and guest posing at numerous NPC amateur shows as well.

A nationally-ranked powerlifter, Johnnie is one of bodybuilding's strongest athletes, and that's obvious in his off-season and competition prep workouts. Join Johnnie as he trains his incredible physique in preparation for the the 2004 IFBB GNC Show of Strength in Atlanta, Georgia.

Running time: 60 mins

* Available in NTSC DVD Only (Region Free)
* THIS DVD WILL PLAY ON ANY DUAL SYSTEM NTSC / PAL DVD PLAYER AND TV. Or any PC DVD.