Details: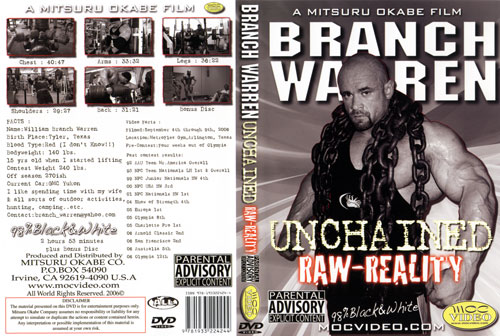 Branch Warren - UNCHAINED / RAW-REALITY 2 Disc Set

Filmed September 4th through 9th 2006. 4 weeks out from the 2006 Mr Olympia.

This awesome 2 DVD set includes Branch's whole-body workout filmed over five gut renchin days. 98% of this DVD is Black & White by request of Branch to highlight every raw detail of his awesome physique. This has not been done since Bodybuilding's best seller Dorian Yates - Blood & Guts.
Olympia Contest footage not included.
" A DVD on Branch Warren has been one of the most requested items over the last 12 months. No DVD has ever been available before now. We are pleased to announce that it is here at last and is well worth the wait. Branch is an absolute inspiration to many people. Taking just one bodypart for comment, his legs are simply out of this world. The rest of his physique is not too shabby either! "
Sean Gallasch
CEO, PCB

Parental Advisory: Explicit Content :
Branch and his training partners are hardcore and brutal!! A must see DVD!!



Running Time: 173 mins

* Available in NTSC DVD Only (Region Free)
* THIS DVD WILL PLAY ON ANY DUAL SYSTEM NTSC / PAL DVD PLAYER AND TV. Or any PC DVD.